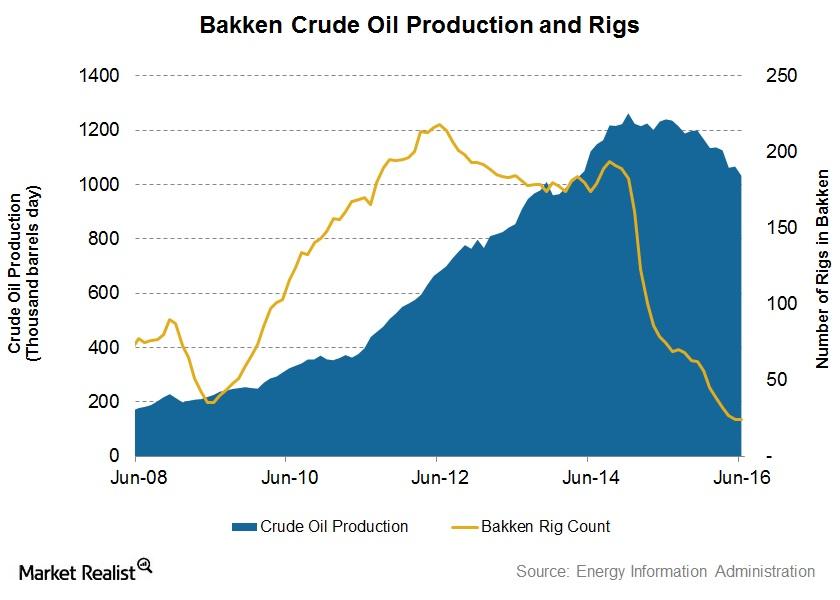 Why June Bakken Crude Oil Production Fell 17% Year-over-Year
Bakken crude oil production
On July 18, 2016, the EIA (U.S. Energy Information Administration) released its Drilling Productivity Report. It estimates that the Bakken Shale produced 1.0 MMbpd (million barrels per day) of crude oil in June 2016. That's 3.2% less than the production level in May 2016 and ~17% lower than the production level in June 2015. The Bakken Shale's crude oil production fell on eight occasions in the past 12 months.
Article continues below advertisement
Shale oil production at the Bakken Shale rose from 177,080 bpd (barrels per day) in June 2008 to ~1.0 MMbpd in June 2016. This represents a 483% rise in eight years. However, as crude oil prices remain volatile, oil producers will have less incentive to increase production. We're seeing this with Bakken production.
Rigs and monthly additions from the average rig
The number of rigs working at the Bakken Shale remained unchanged at 24 in June 2016 compared to the previous month. A year ago, there were 75 drilling rigs in the region. Most of these rigs are horizontal in trajectory or type.
The EIA calculates that the average Bakken rig added production of 825 bpd in June 2016, a 29% rise since June 2015. Since June 2008, additional production per rig has risen 3.1x.
What does this mean for oilfield services companies?
Oilfield services and equipment companies lose revenue if drilling activity falls. The lower Bakken rig count and production are negative for companies such as Carbo Ceramics (CRR), Baker Hughes (BHI), Weatherford International (WFT), and Flotek Industries (FTK). BHI accounts for 0.2% of the iShares S&P 500 Value (IVE).
In the next part of this series, we'll look at crude oil and natural gas production at the Niobrara Shale.