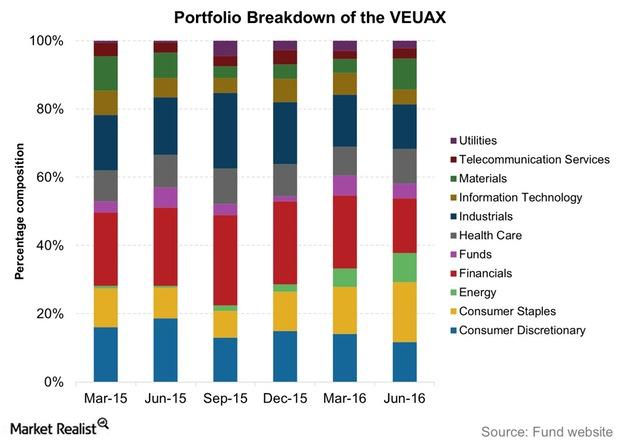 This JPMorgan European Fund Reflects Consumer Spending Growth
By David Ashworth

Jul. 27 2016, Published 3:34 p.m. ET
JPMorgan Intrepid European Fund overview
The JPMorgan Intrepid European Fund Class A (VEUAX) "seeks total return from long-term capital growth. Total return consists of capital growth and current income."
The bottom-up approach is employed while selecting securities for the portfolio. The process "focuses on the value, quality and momentum characteristics of stocks." It's also important to note that the fund mostly invests in shares issued by companies whose activities are focused in Western Europe.
The fund may invest up to 8% of its assets in securities of companies based out of emerging European countries. It can make use of exchange-traded futures to efficiently manage cash flows.
Article continues below advertisement
The fund's assets were spread across 84 holdings in June 2016, and it was managing assets worth $866.2 million as of June's end. As of May, its top ten equity holdings included Nestlé (NSRGF), Novo Nordisk (NVO), Roche Holding (RHHBY), Orange (ORAN), and Siemens (SIEGY), which made up a combined 13.4% of its portfolio.
Portfolio changes in the JPMorgan Intrepid European Fund
Consumer staples, financials, healthcare, and industrials are the core sectoral holdings of the fund. These four combine to form 56% of the fund's assets. Consumer discretionary is the only other sector that commands over one-tenth of VEUAX's portfolio. Consumer staples have taken over financials as the topmost invested sector compared to the previous reporting period.
Compared to the MSCI Europe Index, VEUAX is overweight in the consumer staples, energy, information technology, and materials sectors. Meanwhile, it's underweight in the financials, healthcare, telecommunications services, and utilities sectors. Except for a couple of sectors, the fund looks broadly benchmark-aligned in terms of sectoral composition.
The fund's portfolio has undergone quite a bit of change in the past three years ended June 2016. A look at its quarterly portfolios shows this. Three years ago, consumer discretionary stocks occupied a larger portion of the portfolio than consumer staples stocks.
At present, the situation has reversed, and staples are the largest sector. Exposure to financials has been reduced sharply, especially recently. Materials form a significantly bigger chunk of the fund's portfolio than they did three years ago.
The fund is true to its name in the sense that it's not afraid of experimenting with different stocks. Sometimes, the fund's management has held on to a stock for as little as a month. There is a high rate of turnover in every sector.
How has this portfolio shuffling impacted the fund year-to-date? Let's discuss this in the next article.