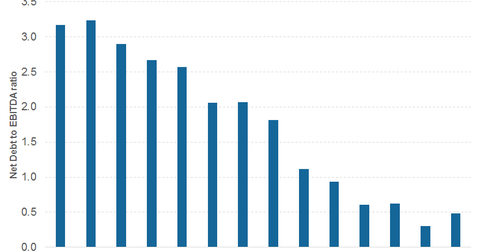 How JetBlue Airways Is Reducing Its Debt
By Ally Schmidt

Updated
Debt repayments
The airline business is a capital-intensive industry, and so airlines generally have huge debt numbers on their balance sheets. JetBlue Airways (JBLU) is no exception. The airline ended the quarter with $1.7 billion in debt. During 2Q16, the airline repaid $36 million in regularly scheduled debt and capital lease obligations.
JetBlue has been focused on reducing its debt burden. Its debt-to-capitalization ratio has reduced to 41% in 2Q16, as compared to 64% in 2Q15. This is expected to reduce to 40% by the end of 2016.
Article continues below advertisement
Debt-to-EBITDA
This has helped the airline bring down its total debt-to-EBITDA (earnings before interest, tax, depreciation, and amortization) ratio from 1.7x in 2Q15 to 1x in 2Q16. Its net debt-to-EBITDA ratio has also declined from 0.93x one year ago to a healthier 0.48x today. This, in turn, has helped JBLU gain better unsecured credit ratings.
By comparison, for 2Q16, United Continental Group's (UAL) net debt-to-EBITDA ratio stands at 1x, whereas Delta Air Lines' (DAL) stands at 0.5x, and American Airlines' (AAL) stands at 2x. Alaska Air Group's (ALK) ratio is -0.56x, and Southwest Airlines' (LUV) ratio is -0.01x.
Spirit Airlines (SAVE) and Allegiant Travel (ALGT) have yet to report 2Q16 earnings.
No impact from planned fleet growth
To support its growth plans, JBLU plans and 30 new Airbus aircraft to its fleet. The delivery of 15 of these aircraft will occur in 2017–2019 while the remaining 15 will be delivered by 2020-2023. All of 2016's remaining aircraft purchases will be done on cash while those delivered in between 2017-2019 will be financed with a combination of debt and cash. However, JetBlue intends to keep its debt-to-capital ratio between 30%–40% in this period.
Strong cash flows help
JetBlue Airways (JBLU) ended 2Q16 with $1.3 billion in cash. The airline has been able to generate strong cash flows due to its exceptional operational performance in September, setting the company's best monthly records. This strong cash flow generation should help the company reduce its debt in future too.
Notably, JBLU makes up 0.37% of the iShares Core S&P Mid-Cap ETF (IJH).