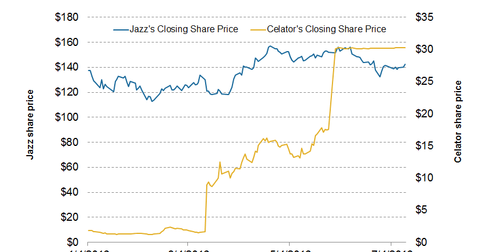 Why Did Jazz Fall after Celator Acquisition Announcement?
By Jillian Dabney

Updated
The rise in Celator's share price
On May 31, 2016, Jazz Pharmaceuticals (JAZZ) announced its agreement to acquire Celator Pharmaceuticals. That day, Celator's share price rose ~72%. The stock also spiked in March after the results of an impressive Phase 3 study for its lead drug Vyxeos.
Jazz's closing price on May 27 was $17.50. Celator earned a premium of ~72.5% on May 31.
Interest by a bigger pharmaceutical or biotechnology giant causes a spurt in the target company's share price. This recently happened with Medivation (MDVN). Sanofi (SNY) tried to opt for a hostile takeover of MDVN, but the buzz is that Pfizer (PFE) and Amgen (AMGN) are also in line for a steal. This caused a surge in MDVN's share price.
Article continues below advertisement
Behind Jazz's share price fall after the acquisition announcement
Following the acquisition announcement, Jazz fell marginally over the period. A higher premium for Celator might be one of the reasons for the fall. The second possible reason might be a dilution effect. The deal would have a modest dilutive effect on Jazz's non- GAAP (generally accepted accounting principles) adjusted EPS (earnings per share). It would be accretive to non-GAAP adjusted EPS in fiscal 2018 and beyond.
The third reason could be that Jazz expects higher operating expenses following the acquisition. Its SG&A (selling, general, and administrative) and R&D (research and development) expenses are expected to increase in fiscal 2016 following launch preparations and regulatory filing expenses associated with Vyxeos. Since the acquisition would be partly leveraged, interest expense is also expected to increase over the period.
Since cash would be utilized for the acquisition, Jazz has suspended its share repurchase plan. Probably all these factors have driven negative investor sentiment and caused a share price fall for Jazz.
In this series, we'll see how the acquisition is a strategic fit for Jazz and what the synergies of the deal are.
To get exposure to Jazz Pharmaceuticals and at the same time control excessive company-specific risks, you can choose to invest in the Vanguard Growth ETF (VUG). Jazz accounts for 0.09% of the fund's total assets.
In the next part of the series, we'll look at the Jazz-Celator deal in detail.