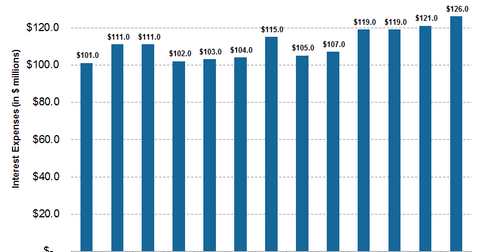 Why Should You Watch Peabody Energy's Leverage and Liquidity?
By Sheldon Krieger

Jul. 22 2016, Updated 12:04 p.m. ET
Peabody Energy's debt
According to the latest company filings, the book value of Peabody Energy's (BTUUQ) debt is about $7.5 billion. Of that, about $1.5 billion is due for payment in November 2018, and most of the rest is due after 2020.
Peabody's interest expenses have consistently been on the rise over the last six quarters. For 1Q16, its interest expenses were $126.0 million. Moving ahead, the ongoing debt restructuring process could reduce the company's future interest expenses.
As of March 31, 2016, BTUUQ had a debt-to-TTM (trailing 12-month) adjusted EBITDA (earnings before interest, tax, depreciation, and amortization) ratio of about 24.0x. This is a measure of the company's leverage.
Peabody's leverage is significantly higher than Cloud Peak Energy's (CLD) at 6.1x, Alliance Resource Partners' (ARLP) at 1.4x, and CNX Coal Resources' (CNXC) at 2.5x.
Article continues below advertisement
A look at liquidity
According to the latest company filings, as of May 4, 2016, Peabody Energy's liquidity totaled about $865 million. It's comprised primarily of cash and cash equivalents. The company also has about $845 million in letters of credit from the 2013 Revolver and the accounts receivable securitization program that support bank guarantees, surety bonds, hedges, and other obligations.
However, the company's ability to maintain adequate liquidity through its reorganization process depends on successful implementation of the reorganization plan and operation of its business.
Off-balance-sheet risks
Peabody Energy's off-balance-sheet risks include self-bonds, surety bonds, and bank guarantees. Recent bankruptcies in the coal (KOL) mining industry have heightened regulatory pressure on reclamation bonding and self-bonding, in particular. This could require Peabody Energy to maintain sufficient collateral to meet these obligations.
On April 29, 2016, the Illinois Department of Natural Resources asked Peabody Energy to replace approximately $92 million of self-bonding with alternative forms of assurance. This is for reclamation obligations in the state of Illinois and must be done within 90 days. According to company filings, Peabody is in discussions with these state authorities. The discussion are over the use of the $200 million bonding accommodation facility provided for in the DIP (debtor-in-possession) Credit Agreement as an alternative to self-bonding during the bankruptcy reorganization process.
As of March 31, 2016, Peabody Energy posted about $1.3 billion in the form of self-bonds and $293 million in surety bonds. The company also had about $277 million in the form of bank guarantees.