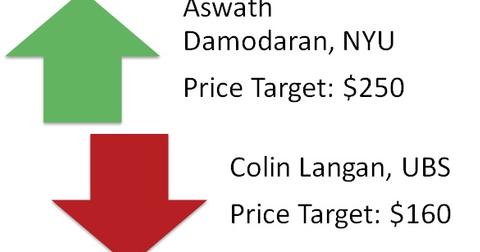 Valuation Expert Aswath Damodaran Weighs in on Tesla's Stock
By Surbhi Jain

Updated
Bull versus bear: Damodaran and Langan on Tesla
Billionaire Elon Musk, CEO of Tesla Motors (TSLA) and SpaceX, is a true visionary. He's often seen in news headlines making bold statements about the future and how he sees it. But how markets (SPY) (IWM) see Musk converting his vision into reality is what fascinates investors already invested or interested in Tesla's stock.
The stock, which begun trading at $19 in June 2010, was trading at $222 as of July 13, 2016. Aswath Damodaran, Dean of Valuations at the NYU Stern School of Business, is seemingly bullish and had good things to say about the company and its future in a CNBC interview on Wednesday, July 13. Damodaran sees the stock as having the potential to reach a $250 price target.
In the same interview, UBS analyst Colin Langan, a bear on the stock, laid out his own perspective. Langan currently has a "sell" recommendation on TSLA stock, with a price target of $160. In this series, we'll discuss each of these views in detail.
Article continues below advertisement
Will the Model-3 be a turnaround story for Tesla?
For those who are not caught up with Tesla's fundamentals and its operations, our series An Investor's Guide to Tesla Motors offers a complete overview of the company, its performance, and vision. While Tesla's Model-S and Model-X are innovative in themselves, its latest announced mass market electric vehicle Model-3 (first unveiled on March 31, 2016) is expected to be the next big thing for Tesla. With this product, Musk intends to reach the mass market segment—the very segment that would see the value in Tesla's fuel savings.
Currently, Tesla cars are priced upward of $70,000. But not many buyers at that price point would be too concerned about daily driving costs. The launch of the Model-3, which boasts of a potential driving range of 200 miles and costs around $35,000, could help Tesla score over other established car manufacturers such as Ford (F) and General Motors (GM).
Gigafactory
Meanwhile, to support the production of a car at the $35,000 price point, Tesla is building its "Gigafactory" to bring down battery costs (by over 30%) for the company. With his new Model-3 and the Gigafactory, Elon Musk has envisioned that his company will be able to produce half a million cars by 2018. (Check out our series Tesla Gigafactory: Is It Tesla's Key to Success? for more on the Gigafactory.)
It's the challenge of turning this vision into a reality that will be a key determinant in Tesla's future. So let's explore what Damodaran had to say specifically about Tesla in the next part of this series.