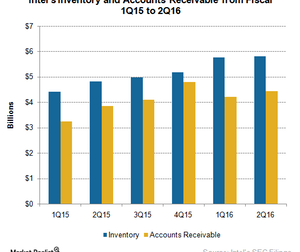 What Does Intel's Balance Sheet Say about Its Financial Position?
By Puja Tayal

Aug. 2 2016, Updated 8:04 a.m. ET
Intel's balance sheet
In the earlier series, we saw that Intel (INTC) is moving fast in the data center, memory, and IoT (Internet of Things) space to offset the declines in PC shipments. One major move in this space was the acquisition of Altera and bringing Qualcomm's (QCOM) executive Murthy Renduchintala to head the client and IoT segments.
The acquisition strained Intel's financial position and the declining PC market and slowing data center revenue increased its inventory.
Article continues below advertisement
Cash
In fiscal 2Q16, Intel generated $3.8 billion in cash from operating activities. It spent $2.3 billion in capital expenditure, $800 million in share buyback, and $1.2 billion in dividend payments.
As of July 2, 2016, Intel's cash reserves stood at $17.7 billion—up $2.6 billion from fiscal 1Q16. Its total debt stood at $28.6 billion—bringing the net cash balance to -$10.9 billion. Earlier, the company aimed to bring its net cash to zero by the end of fiscal 2016, but with lower-than-expected growth and significant restructuring charges, the company expects to reach zero net cash in fiscal 2017.
The company's first priority is to reduce its debt. It's against taking debt to pay dividends or fund buybacks. If revenue and profits continue to slow, dividends will likely be impacted.
Inventory
Earlier, we saw that Intel's gross margins are being impacted by high inventory levels. Intel's inventory has been rising over the past six quarters. It reached $5.8 billion in fiscal 2Q16—up 20.4% YoY (year-over-year).
High inventory is a major cause of concern in the technology space where products become obsolete due to short refresher cycles. Intel's rival Advanced Micro Devices (AMD) wrote down its obsolete inventory in fiscal 2015. Apple (AAPL) scaled back production of the iPhone 6s and 6s Plus to avoid piling up inventory.
When Cypress (CY) acquired Spansion in fiscal 1Q15, the latter brought a huge inventory. It took Cypress more than a year to control the inventory with its lean inventory initiatives.
If Intel's inventory continues to rise, it may face an inventory write-down.
Accounts receivables and payables
Intel's accounts receivables as a percentage of sales rose from 29% in fiscal 2Q15 to 33% in fiscal 2Q16. Its accounts payable also increased to 25% of the revenue in fiscal 2Q16. All of this boils down to rising inventory. If the company writes down inventory, it could face a major charge that might hamper its profits.
However, the company expects inventory levels to fall significantly in fiscal 2H16. Next, we'll look at the company's guidance.