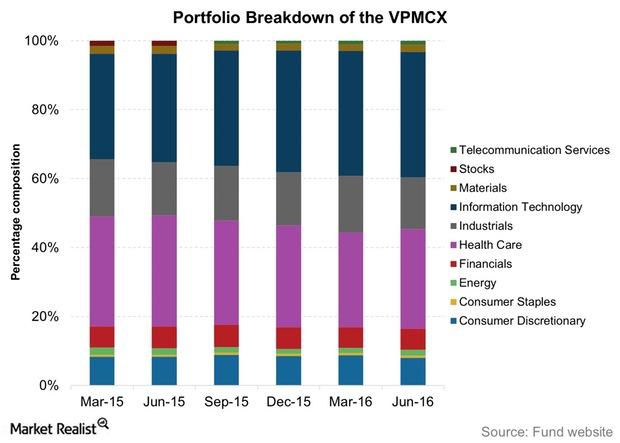 Inside the Portfolio Changes in the Vanguard PRIMECAP Fund in 2016
By David Ashworth

Jul. 22 2016, Updated 7:57 p.m. ET
Vanguard PRIMECAP Fund overview
The Vanguard PRIMECAP Fund Investor Shares (VPMCX) "invests in stocks considered to have above-average earnings growth potential that is not reflected in their current market prices…The fund's portfolio consists predominantly of large- and mid-capitalization stocks."
The fund's literature states that the fund's managers have a long-term perspective while managing this fund, and they do it with an "extremely low turnover." Multiple fund managers are involved in investment decisions by the investment adviser for the fund. The portfolio is divided into portions that are managed independently by a manager, and the fund literature claims that this provides a "diversity of thought."
Investors should note that the fund may become concentrated in a few sectors, especially in technology and healthcare. Readers should note that this fund is closed to new investors.
Article continues below advertisement
The fund's assets were invested across 131 stocks as of June 2016, and it was managing assets worth $44.9 billion as of the end of June. As of March, its equity holdings included Texas Instruments (TXN), Roche Holding (RHHBY), FedEx (FDX), L Brands (LB), and Marsh & McLennan Companies (MMC), which make up a combined 14.7% of the fund's portfolio.
Portfolio changes
Information technology, healthcare, and industrials lie at the heart of VPMCX. The first two make up a combined 64% of the fund's assets, and no other sector accounts for over one-tenth of the fund's assets. The fund is not invested in the utilities sector. Interestingly, consumer staples form only 0.6% of the fund's portfolio.
Compared to the S&P 500 index, VPMCX is markedly underweight consumer discretionary, consumer staples, energy, financials, and telecom services. But it's overweight in healthcare, industrials, and information technology.
Consumer staples have formed less than 1% of the portfolio, according to the quarterly portfolios of the past three years. Most sectors have broadly maintained their portfolio weights for the past three years, with the exception of consumer discretionary, information technology, and energy. The first two have seen a bump in their weights, while the energy sector has seen a sharp reduction.
In the next part, we'll discuss how the fund's investment strategy has fared over various periods and what has contributed to its performance so far in 2016.