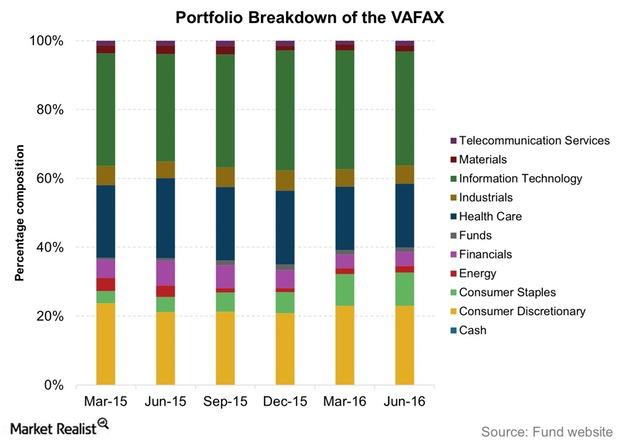 Inside the Portfolio Changes in the Invesco American Franchise Fund in 2016
By David Ashworth

Jul. 22 2016, Published 7:56 p.m. ET
Fund overview
The Invesco American Franchise Fund Class A (VAFAX) invests at least 80% of its assets is US stocks under normal circumstances. The fun focuses on the common stocks of large- and mid-cap issuers. The fund's managers look for companies that have the potential for earnings or revenue growth. Up to 20% of the fund's assets may be invested in securities issued by foreign issuers.
The investment adviser's bottom-up stock selection process pursues alpha, which the fund literature defines as "return on investments in excess of the Russell 1000 Growth Index." The fund's management undertakes "detailed modeling of a company's financial statements and discussions with company management teams, suppliers, distributors, competitors, and customers," before arriving at their investible universe.
Article continues below advertisement
The fund's assets were invested across 67 holdings as of June 2016, and it was managing assets worth $8.7 billion as of the end of June. As of the March 2016 portfolio—the latest complete portfolio available—its equity holdings included Philip Morris International (PM), Carnival (CCL), Dish Network (DISH), Republic Services (RSG), and Southwest Airlines (LUV), which make up 7.9% of its assets.
Portfolio changes
Information technology, consumer discretionary, and healthcare are at the core of VAFAX. These three make up a combined 77% of the fund's assets. The fund is not invested in the utilities sector.
In the past three years until June 2016, quarterly portfolios show that exposure to the consumer discretionary sector has broadly been the same. Meanwhile, exposure to consumer staples has increased sharply. Staples made up less than 3% of the portfolio three years ago, but now staples make up close to 8%. Exposure to the healthcare and information technology sectors is also higher than it was three years ago.
On the other hand, the energy and industrials sectors have seen sharp reductions in their portfolio weights as compared to three years ago. But it's important to note that the portfolio turnover of VAFAX is quite high. The fund has churned its holdings from the consumer discretionary, energy, and financials, among others, a lot. Investors not comfortable with a high rate of churn should, of course, to consider this fact.
But how has VAFAX performed so far in 2016, and what can this performance be attributed to? Continue to the next part to find out.