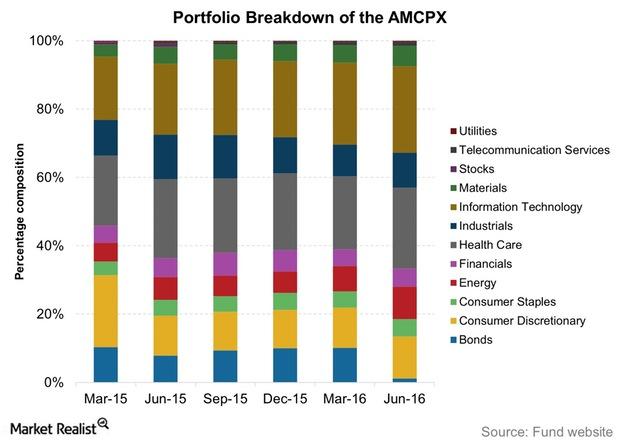 Inside the Portfolio Changes in the American Funds AMCAP Fund so Far in 2016
Fund overview
The American Funds AMCAP Fund Class A (AMCPX) "invests primarily in US companies of any size with solid long-term growth records and the potential for good future growth." Fund managers can invest in companies based outside the US, but they'll do it to a restricted degree only.
AMCPX fund is managed by four fund managers. The overall portfolio is divided into distinct segments that are managed by individual managers. Fundamental analysis is used by managers to choose suitable securities for the portfolio, and the process includes meeting with company executives and employees, suppliers, customers, and competitors.
Article continues below advertisement
AMCPX's assets were invested across 268 holdings (stocks, bonds, and cash) as of June 2016, and the fund was managing assets worth $47.6 billion as of the end of June. As of June, its top ten equity holdings included Amgen (AMGN), Oracle (ORCL), the Class A shares of Accenture (ACN), Stryker (SYK), and EOG Resources (EOG), which make up a combined 10.2% of the fund's portfolio.
Portfolio changes
For this analysis, we'll be considering holdings as of March 2016 because that is the latest available sectoral breakdown with us. The holdings after March reflect the valuation-driven changes to the portfolio and not the actual holding. Do keep in mind that the fund discloses portfolio holdings once every quarter.
Information technology, healthcare, consumer discretionary, and industrials are the core sectors invested in by AMCPX. These sectors make up more than one-tenth of the portfolio, with the first two forming more than one-fifth of the fund's assets apiece. US stocks make up three-fourths of the portfolio, with cash and equivalents forming a sizable 17% of the total assets.
We've looked at the portfolio of AMCPX for the past three years. Fund managers have been quite consistent in terms of the sectoral composition of the fund, except for in 3Q15, when exposure to consumer discretionary stocks, namely Netflix (NFLX), had increased substantially.
Energy sector
One major change is the allocation to the energy sector. Three years ago, the sector made up over one-tenth of the assets. In the wake of the sharp decline in crude oil prices in mid-2014, exposure was trimmed down to 5% and has increased to its current 8.5%. Information technology stocks are clearly in favor, as exposure to them has risen almost consistently over the past three years.
But how has AMCPX performed YTD in 2016, and what can its performance be attributed to? We'll answer these questions in the next part of the series.