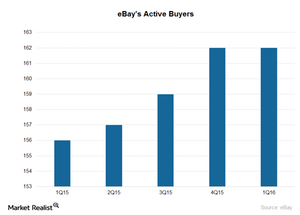 Inside eBay's Turnaround: Expansion and Acceleration
By Amit Singh

Jul. 12 2016, Updated 8:08 p.m. ET
eBay to expand in Africa
According to TechCrunch, eBay (EBAY) will soon gain access to African consumers. eBay entered into a partnership with the e-commerce startup MailforAfrica to launch an "eBay Powered by MallforAfrica dedicated platform."
According to the agreement, sellers in the US (IVV) with a 300+ star rating would be able to sell their products to buyers in Nigeria and Kenya.
The partnership entails financial, marketing, and logistics arrangement only, and eBay has not taken any equity stake in MallforAfrica. Initially, sellers will gain access to Nigeria, then Kenya, with Ghana to follow later.
Since its separation from PayPal (PYPL), eBay has struggled to increase its sales with a stagnant number of active buyers on its platform, as shown in the chart above. Plus, increased competition from Amazon (AMZN) is making things worse.
The company's latest move is expected to boost the number of active users onto its platform as Africa provides ample opportunities for growth. Plus, e-commerce in Africa is gaining traction, with online sales expected to reach $75 billion by 2025, according to McKinsey's Global Institute.
Article continues below advertisement
eBay leverages Google's AMP to enhance browsing speed
eBay recently stated that it is leveraging Google's (GOOG) open source Accelerated Mobile Pages (or AMP) technology, which enables it to speed up the display of its web pages on mobile devices.
This move is expected to enhance the user experience of those who come to eBay from external platforms like Google and Twitter (TWTR). Users would be able to quickly compare prices. This move is likely to boost the active user growth on eBay's platform.