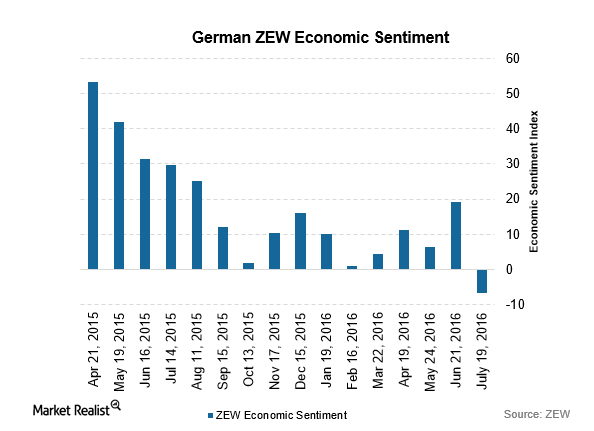 Inflation Rises in United Kingdom: Should Go Higher on Weak Pound
Inflation level increases 0.5% in United Kingdom
The inflation rate in the United Kingdom pushed higher to release at 0.5% on an annual basis in June. This compares to expectations of a 0.4% rise and a growth of 0.4% in the previous month. However, the inflation rate remains below the central bank's target of 2%.
On a monthly basis, consumer prices increased by 0.2% in June, which is in line with the rise in May and above expectations of 0.1%. A rise in air prices coupled with an increase in the cost of housing and utilities contributed to the growth in inflation.
The fall in the value of the pound versus the US dollar is expected to boost inflation levels in the United Kingdom. An upward movement in consumer prices can be expected in the coming months. Core inflation also rose by 1.4% in June on an annual basis.
Article continues below advertisement
ZEW economic sentiment contracts in the Eurozone
The ZEW economic sentiment index for Germany (EWG) (HEWG) declined to -6.8 in July from 19.2 in the previous month. It was below estimated forecasts of 9.0. The reading was the lowest since November 2012.
The incidence of volatility due to the British referendum and its impact on the German economy led to the contraction in the index. The ZEW indicator for the Eurozone (VEA) (EZU) declined to -14.7 in July compared to 20.2 in June.
Russian retail sales decline, producer prices rise
Retail sales in Russia (RSX) continued to decline by 5.9% on an annual basis in June against 6.1% in the previous month. Sales were below expectations of a fall of 5.5%.
A decline was seen in the sales of food and non-food products. On the other hand, producer prices in Russia increased by the highest percentage since January at 5.1% in June. That was higher than the 3.2% increase in May. The increase was primarily driven by a rise in manufacturing and utility prices, while mining activity declined.