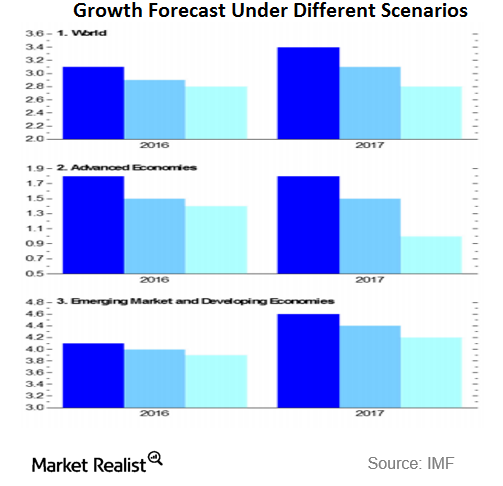 Analyzing Scenarios in the IMF's Report: What to Expect
By David Meyer

Jul. 22 2016, Updated 1:09 p.m. ET
Scenarios looked at in the IMF report
The IMF (International Monetary Fund) looks at two risk scenarios for estimating the growth forecasts in case of increased risks. The two new scenarios named "downside" and "severe" were compared to the baseline scenario. According to the IMF, the downside scenario refers to a state where financial conditions are tighter. Consumer and investor confidence was much lower than the baseline scenario. The scenario also assumes that part of the United Kingdom's financial services sector will gradually relocate to the Eurozone.
Article continues below advertisement
The second scenario named "severe," although less probable, assumes an intensification of the financial crisis. This scenario assumes that the negotiations between the European Union (DBEF) and the United Kingdom (EWU) don't have a smooth ending. This assumes an eventual recessionary trend in the United Kingdom.
Impact on advanced economies
Looking at the IMF's projections in both scenarios, it's evident that the severe and downside scenario has a larger impact on advanced economies. The severe scenario could result in a near 50% fall in the advanced economy forecasts for 2017. It's projected to fall from 1.8% to 1.0%.
The relative effect on emerging (EEM) and developing economies look less compounded. The IMF forecasts the emerging and developing economies' growth to fall from 4.6% in the baseline scenario to 4.4% and 4.2% in the downside and severe scenarios, respectively.
Other risks to global growth
Apart from the Brexit vote not happening smoothly, the IMF also points out other major global growth risks in its report. These include the ongoing banking crisis in the Italian (EWI) and Portuguese banks and the Chinese market's continued dependence on credit as a growth driver. The report also points to geopolitical risks like the continued strike in the Middle East. Diseases like the Zika virus were also identified as a risk to the Caribbean and Latin American (ILF) region in the IMF's report.