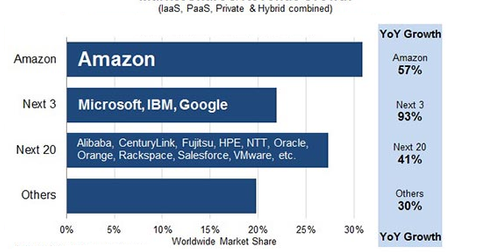 Why IBM Still Rules the Hybrid Cloud Space
By Anne Shields

Updated
IBM ranked the leader in hybrid cloud and public cloud IaaS adoption
Earlier in the series, we looked at International Business Machines' (IBM) Strategic Imperatives performance. It's likely to be a key focus of the company's fiscal 2Q16 results.
In late June 2016, IBM was ranked a market leader in Cloud Application Development and Transformation by TBR (Technology Business Research), an independent technology market research firm. TBR also ranked IBM a market leader in public cloud IaaS (Infrastructure-as-a-Service) adoption.
In early 2016, Ovum, a global analyst firm, cited IBM as a market leader in the Application Development for Hybrid Cloud. IBM's software development capabilities to develop hybrid cloud applications enabled it to achieve this leadership position.
Synergy Research's recent report also stated that IBM continued to be a top performer in the hybrid cloud space in 2015. Along with private cloud, hybrid cloud registered a 45% growth that year.
Article continues below advertisement
IBM's acquisition and partnership to boost position in hybrid cloud space
IBM's numerous acquisitions and partnerships have played a role in its leadership position in the hybrid cloud space. In late 2015, IBM announced the acquisition of Gravitant for this reason.
Gravitant's flagship offering, CloudMatrix, enables enterprises to have a hybrid approach that lets them compare and analyze a variety of cloud service offerings currently available. It thus aids in their subsequent decision to buy, manage, or monitor those cloud services.
In late February 2016, IBM announced its partnership with VMware (VMW). Through this partnership, existing IT (information technology) workloads can be migrated through VMW's virtualization software without requiring any rewriting, packaging, or modification.
With this partnership, approximately 80% of companies that run VMware's vSphere can shift to IBM's cloud. VMware's vSphere has an 80% market share in the corporate data center space. So partnering with VMware further strengthened IBM's position in the hybrid cloud space.