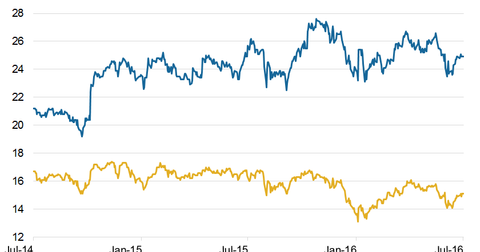 How Visa's Valuation Was Impacted by Visa Europe Buy
By Robert Karr

Updated
Long-term returns
Visa (V) stock has risen by 64% over the past three years as a result of strong consumer spending, an addition of new clients and volume growth with existing clients. The company has been thriving on higher prices, greater partnerships, and co-branded cards.
Higher penetration of online purchase transactions through Partnerships, such as Paypal, can allow Visa to expand its network.
Visa has been consistent and prudent in rewarding its shareholders through dividend and share repurchases. In fiscal 3Q16, the company declared a quarterly dividend of $0.14 per share in line with the previous quarter. The dividends paid translated into an annualized dividend yield of 0.70%.
Visa's peers in the brokerage industry have the following dividend yields:
Together, these companies account for 2.3% of the Technology Select Sector SPDR ETF (XLK).
Article continues below advertisement
Market rewarding premium
Visa is trading at ~24x on a one-year forward earnings basis compared to its peers are trading at 15.1x. The Market has been rewarding Visa with premium valuation because of the growth predictability, sustainable and recurring in nature earnings, strong brand, and zero leverage.
However, with an acquisition of Visa Europe, legacy Visa now holds long-term debt of $16 billion, with further addition expected of $2 billion this year, could prove to be one of catalyst in determining if it can continue to command an exceptionally high premium.
On the other hand, its share repurchase program to mitigate the effect of dilution shows that Visa has one of the best capital return programs among its Dow Peers. In the near term, the market is likely to reprice Visa to adjust valuations to this risk.
Visa (V) remains a strong play with positives as payment volume uplift from USAA and Costco, moderation in dollar translation impact and oil prices, accretion from Visa Europe, and superior cross-border growth specifically from emerging markets that are slowly embracing digital payments.
For example, China is estimated to be an ~$8.4 trillion market opportunity. The Chinese market should continue to grow in the double-digit range, and it currently represents over half of the 9.5 billion cards issued globally.
Visa's full-year operating cash flows in fiscal 2016 are expected to be $7 billion. Its operating margins are expected to be in the mid-60s in fiscal 2016. Visa expects its revenue growth, excluding currency impact, to be in the low double digits.
Few of headwinds that could impose volatility in earnings are global economic uncertainty, an impact of the Brexit referendum on Europe, China's slowdown, and market entry costs.
Currently, Visa (V) is trading at a price-to-earnings ratio of 28x. Overall, Visa presents open-ended growth and opportunity that leads attractive returns to investors in the long term.