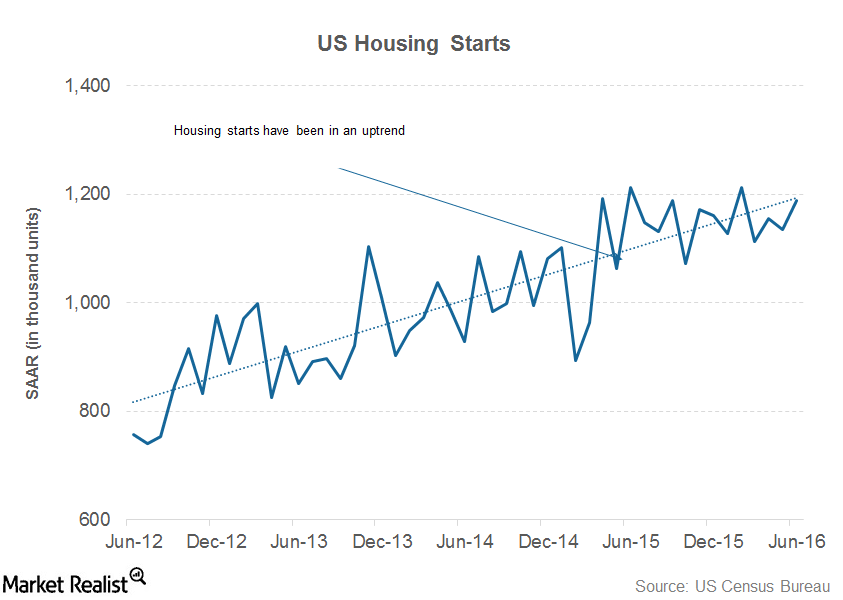 How Do US Steel Demand Indicators Look in July?
US steel demand indicators
Previously, we looked at Chinese steel demand indicators. In this part of the series, we'll look at some of the recent US steel demand indicators. Let's begin by analyzing how the residential housing sector, a major steel consumer, is shaping up this year.
Article continues below advertisement
Residential construction
Building permits and housing starts act as leading indicators of residential construction activity. Housing starts rose by 4.8% to a SAAR (seasonally adjusted annual rate) of 1.2 million units in June 2016. The data came in better than expected. Building permits rose by 1.2% to a SAAR of 1.2 million units in June. The undertone in the construction industry remains optimistic.
Nonresidential construction
The Architectural Billing Index (or ABI) is a leading index of nonresidential construction activity based on a survey of architects. The participants are asked whether their billing increased, decreased, or stayed the same in the month. A value above 50 indicates an increase in billing. The index serves as a leading indicator for the nonresidential construction industry.
Simply put, an increase in architectural billing means more buildings are expected to come up in the future. The ABI stood at 52.6 in June. Although this is lower compared to what we had in May, the ABI has managed to stay above 50 in five out of the six months so far this year.
Higher construction activity leads to higher demand for steel products such as rebars, joists, and girders. Nucor (NUE) is the largest supplier of rebars in North America. Gerdau (GGB) and Commercial Metals Company (CMC) are the other leading rebar suppliers.
Meanwhile, while real steel demand has been strong this year, there are some concerns over apparent steel demand. We'll discuss this more in the next part of the series.
You can also consider the Materials Select Sector SPDR ETF (XLB) to get diversified exposure to the materials sector. Together, Nucor and Vulcan Materials Company (VMC) form ~6.3% of XLB's portfolio.