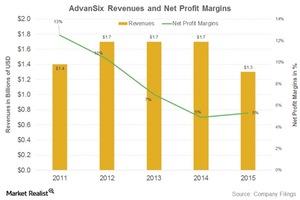 Why Honeywell Is Divesting Its Resins and Chemicals Business
By Shannon Black

Jul. 11 2016, Updated 9:06 a.m. ET
AdvanSix's margins are poor compared to Honeywell's standards
In the last five years, Honeywell's (HON) Resins and Chemicals (VAW) business has been characterized by a steady fall in net profit margins. This was despite Honeywell's having a lower cost structure compared to competitors such as BASF (BASFY) and Sinopec (SHI).
The Resins and Chemicals business earned net income of $175 million on sales of $1.4 billion in 2011, which translated to a net profit margin of 12.2%. While its sales stagnated at $1.7 billion from 2012 to 2014, its net income fell from $175 million in 2012 to $86 million in 2014.
Article continues below advertisement
In 2015, the Resins and Chemicals business earned $68 million on sales of $1.3 billion, with a net profit margin of just 5.2%. The unit derived 75% of its sales from the United States. The unit's average assets by average equity ranged between 1.7 and 2.0 from 2011 to 2015. In 2015, its asset-to-equity ratio was 1.7.
Reasons for the spin-off
As discussed above, margins in the Resins and Chemicals (IYM) business had been falling since 2011, and this no longer conformed to the benchmark established by Honeywell's high-margin businesses. Therefore, starting next year, the divestiture of the business is likely to boost the margin profile of the Performance Materials and Technologies (or PMT) segment.
Honeywell has targeted an operating margin of 23%–25% by 2018 for its PMT segment. The segment earned an operating margin of 21% in 2015. A large portion of the expansion is expected to be achieved via breakthrough initiatives from research into its product portfolio.