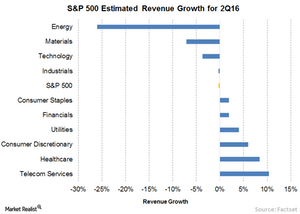 Second Half Could See Higher Revenue Visibility
By Richard Turnill

Jul. 28 2016, Published 10:02 a.m. ET
We will also be focused on earnings quality. The exclusion of asset write-downs in the energy and materials sectors and the use of aggressive accounting practices have inflated pro-forma earnings. We are watching for improvements in sales growth and cost controls — as well as the strength of demand that multinationals report seeing out of China and other emerging markets (EMs).
Article continues below advertisement
Market Realist – Sales growth is expected to improve gradually
Declining commodity prices (GSG) forced many companies in the energy and materials sector to write down the value of their assets. According to IHS Energy estimates, oil and gas producers wrote down assets worth $177 billion in fiscal 2015 and $15 billion in the first quarter of this year.
Revenue visibility
According to FactSet, 57% of the companies that have released their earnings to date reported higher-than-estimated sales in the second quarter. About 43% have reported lower-than-estimated sales.
Overall, in the second quarter, companies in the S&P 500 (IVV) (SPY) are expected to post a 0.3% decline in revenue. In the second half of the year, sales growth is expected to improve gradually with an estimated growth of 2.3% and 4.9% for 3Q16 and 4Q16, respectively.
Higher demand in emerging markets
While demand seems to be contracting in many developed countries (EFA), it's growing in emerging markets (EEM) such as China and India. The consumer sector in emerging markets is the most exciting story, underpinned by growth of the middle class population.
According to estimates, around 300 million households in emerging markets are likely to shift to the middle class category this decade, thus boosting demand for many goods and services. Despite some current short-term hiccups, long-term growth in emerging economies remains intact. How this growth pans out in the coming quarters is yet to be seen.