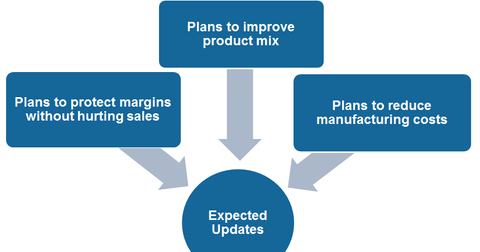 Harley's 2Q16 Earnings: What Can Investors Look Forward To?
By Jitendra Parashar

Updated
Harley's 2Q16 earnings
So far in this series, we've covered analysts' estimates for Harley-Davidson's (HOG) upcoming earnings release. Moreover, analysts' estimates suggest a mixed trend in the company's upcoming earnings due to profitability and sales-related challenges.
Now, let's discuss the major potential highlights in Harley's 2Q16 earnings.
Article continues below advertisement
Plans to protect margins
In the last few quarters, Harley's margins have shrunk in multiple markets, including Europe, Japan, Australia, and Brazil. The primary driver behind this shrinkage was currency headwinds.
Last year, the profitabilities of mainstream automakers (FXD) such as General Motors (GM) and Ford Motor Company (F) were also affected by unfavorable US dollar movement. Japanese automakers including Honda Motor Company (HMC) benefitted from a weak Japanese yen.
Recently, Harley suggested that it had revised its pricing in some of its markets to protect its margins. However, this resulted in a significant fall in sales. Going forward, it will be interesting to see how Harley can adjust its business strategy to protect its margins further without hurting its sales substantially.
Article continues below advertisement
Plans to improve product mix?
Harley-Davidson produces a variety of models. These models range from lightweight motorcycles to large heavyweight motorcycles. Among its heavyweight motorcycles, touring motorcycles tend to yield the highest margins for the company.
In 1Q16, Harley-Davidson reported a shift in its product mix. The shipments of Harley's touring motorcycles fell by 0.8%, while shipments of the cruiser and Sportster street motorcycles rose by 15.1% and 1.2%, respectively. This affected Harley-Davidson's profitability for the quarter.
Therefore, updates on how the company expects to reenergize its falling sales of touring motorcycles could be followed closely by investors.
Plan to cut manufacturing costs
During its 1Q16 earnings release, HOG revealed that it had been trying to enhance the efficiencies of its manufacturing plants. This included costs related to the implementation of an ERP (enterprise resource planning) system at the company's manufacturing plant in Kansas City. The implementation of the ERP system is likely to continue in the coming quarters. The company expects it to be completed by the end of 3Q16.
While implementing this system will benefit Harley in the long run, it has affected the company's margins recently. Due to this, HOG's gross profit has been negatively affected by $15.6 million due to higher year-over-year startup costs in 1Q16.
Therefore, the company's plan to reduce its manufacturing costs could be watched closely by investors during its 2Q16 earnings.
Continue to the next article to know about Harley-Davidson's current leverage position.