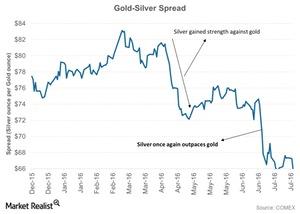 How Deep Did Gold-Silver Ratio Dive after the Fed's Meeting?
By Meera Shawn

Updated
Gold-silver spread
The gold-silver spread, or the gold-silver ratio, is an important element to consider when doing a comparative study of these two precious metals. The gold-silver spread was trading at 65.8 as of July 27, 2016. The ratio suggests that it takes almost 66 ounces of silver to buy a single ounce of gold. The ratio has seen a fall of approximately 14.3% since the beginning of 2016.
Silver has a dual role. It's used as a haven during times of uncertainty, and it's also used as an industrial metal. The rise of equities spurs industrial growth, which can help silver. An economic crisis and political unrest can also make silver rise due to a call for safe havens.
In 2016, there was both a safe-haven bid for silver during the Brexit referendum and an industrial demand. Gold depends only on safe-haven bids to take it higher.
Silver has indeed outperformed gold in 2016. The year-to-date gain in gold is only 26.6%, while silver's is 46.6%. Over the past 30 trading days, silver increased about 14%, while gold barely managed a surge of 1.7%.
The gold-silver ratio reads the performance of gold versus silver. A downward movement means silver is getting stronger, while an upward movement means gold is getting stronger.
Article continues below advertisement
RSI level
The RSI (relative strength index) level for the ratio is 33.8. It's significantly below the level of 20.0 during the past month. A level above 70 indicates that an asset has been overbought and could see a downward revision. A level below 30 indicates that an asset has been oversold and could see an upward revision.
Funds affected
The performance of gold and silver can also be studied through funds such as the iShares Silver Trust (SLV) and the iShares Gold Trust (IAU). Leveraged funds such as the Direxion Daily Junior Gold Miners Bull 3x ETF (JNUG) and the Velocity Shares 3X Long Gold ETN (UGLD) increased a whopping 16.4% and 4.8%, respectively, on Wednesday, July 27, 2016.