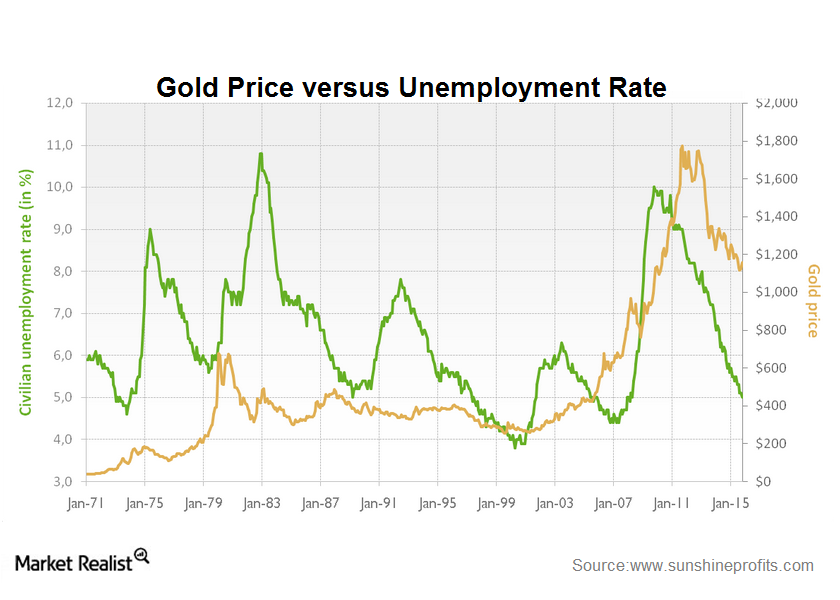 Gold Fell as Economic Data Posted a Little Strength
Employment figures
US economic data that came out on Friday, July 8, 2016, had a significant impact on gold. US private payrolls increased in June more than expected. The non-farm employment figure, which measures the change in the number of employed people during the month, stood at 287,000 for June. That's much higher than the expected 175,000. This high figure is better for the economy and thus endangers gold's haven appeal.
The unemployment rate was 4.9%, higher than the forecast. The unemployment rate is the percentage of the total work force that's unemployed and actively seeking employment during the previous month. The graph below shows the long-term relationship of gold with the unemployment rate.
Article continues below advertisement
Brexit shockwaves
The better the economic numbers, the worse it gets for gold since its safety value decreases with stability. On June 23, 2016, the United Kingdom voted to leave the European Union—the so-called Brexit. This sent shockwaves around the globe and lifted up all precious metals.
Gold, silver, platinum, and palladium have year-to-date gains of 29%, 48.6%, 23.6%, and 10.2%, respectively. Palladium earlier saw losses, but over the past few weeks, it recovered those losses and made gains.
Tracking funds and shares
Mining-based funds carefully follow the returns of precious metals. The iShares MSCI Global Gold Miners (RING) and the Global X Silver Miners ETF (SIL) rose 2.7% and 3.7%, respectively, on Friday, July 8.
On Friday, miners such as Goldcorp (GG), Royal Gold (RGLD), and B2Gold (BTG) rose 1.5%, 3.4%, and 5.7%, respectively. Together, these stocks make up 13.6% of the fluctuations in the VanEck Vectors Gold Miners ETF (GDX).