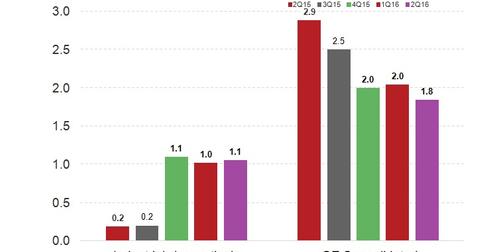 A Glance at GE's Balance Sheet: Debt Profile and Liquidity
By Jessica Stephans

Updated
About GE's debt and equity
On first glance at the chart below, you may wonder how General Electric's (GE) Industrial + Verticals' debt-to-equity ratio increased over the last two quarters while debt fell on a consolidated level. Verticals refer to financial services businesses expected to be retained by GE and primarily include GECC's (General Electric Capital Corporation) vendor financing operations.
General Electric supported GECC by funding them. The withdrawal of the "SIFI" (systematically important financial institution) label also shows the financial muscle power of the big industrial parent. Regulators liked that GE decided to guarantee GE Capital's debt. See the chart above to analyze the surge in debt at the end of 4Q15.
As of June 30, 2016, GE's Industrial + Verticals debt fell by 3.5% to $89 billion against equity of $85 billion, implying a debt-to-equity ratio of 1.1x. The consolidated debt-to-equity ratio also fell to 1.8x from 2.0x in 1Q16.
Article continues below advertisement
GE's liquidity
GE had $10.0 billion in cash and cash equivalents on the Industrial + Verticals balance sheet as of June 30, 2016. Moreover, the sale of GECC's assets may improve the liquidity position further. Based on the company's guidance, it expects to generate cash from operations of about $30 billion–32 billion in 2016, subject to an $18 billion dividend from GECC.
If you are interested in trading in industrials, you can look into the Fidelity MSCI Industrials Index ETF (FIDU). FIDU's top holdings are GE at 12.9%, 3M (MMM) at 4.6%, Honeywell International (HON) at 3.7%, and United Technologies (UTX) at 3.5%.
In the next part of this series, we'll look at the GE Appliance-Haier deal and its expected closure.