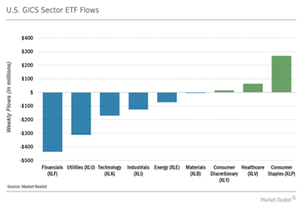 GICS Sectors: Investors Err on the Side of Caution
By Meikel Mokry

Updated
Investor caution
GICS sector ETF flows last week offered the first hint that investors remained somewhat cautious even as US equities rallied. As the chart below illustrates, only three GICS sector ETFs witnessed net inflows, which totaled ~$350 million. In contrast, the remaining six GICS sector ETFs saw weekly outflows of ~$1.1 billion.
Article continues below advertisement
Inflows: Defensive GICS sector ETFs in focus
First, note that you should only consider three of the nine US GICS sector ETFs truly defensive, judged by a five-year historical raw beta to SPY below 1. You can judge the Utilities Select Sector SPDR Fund (XLU), with a beta to SPY of ~0.4, the most defensive. This sector has seen the largest year-to-date inflows among its peers. The only other two defensive GICS sectors are the Consumer Staples Select Sector SPDR Fund (XLP), with a beta to SPY of ~0.6, and the Health Care Select Sector SPDR Fund (XLV), with a beta to SPY of ~0.8.
Turning our attention to last week's inflows, the chart above shows that the second- and third-most-defensive GICS sector ETFs, XLP and XLV, made up >95% of the ~$350 million aggregated inflows. XLP's inflows are especially telling, given that the ETF hit an all-time high last week. In times of heightened market volatility, well-established companies with lower sensitivity to general market fluctuations are assigned higher weights within investor portfolios. Proctor & Gamble (PG), Coca-Cola (KO), and Phillip Morris International (PM) belong to this category. Together, these stocks make up close to one-third of XLP's portfolio. As such, defensive investor positioning drove inflows.
Outflows: Financials (XLF) increasingly out of favor
Once again, the Financial Select Sector SPDR Fund (XLF) saw the largest weekly outflows among its peers. Investors pulled out a total of ~$440 million, representing ~40% of aggregated outflows among US GICS sectors. Last week was largely symbolic for the massive year-to-date outflows XLF has seen—by far the most among US GICS sectors. That news should come as no surprise. Investors seem to have completely given up any hope for margin expansion as yields kept falling even after Friday's strong non-farm production numbers wiped out any probability of a cut this year. The usual discussion involves tumbling US Treasury bond yields, but keep in mind that more forward-looking inflation measures, such as the US five-year, five-year forward breakeven rate, keep falling as well.
The key takeaway is that sector ETF inflows show the defensive nature of last week's market rally—which indicates positive but cautious investor sentiment.
In Part 3 of this series, we widen our focus to the overall ETF universe.