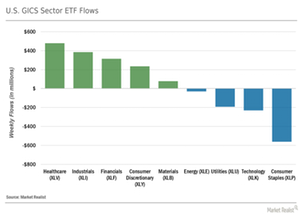 GICS Sectors: High-Beta ETFs Favored
By Meikel Mokry

Jul. 18 2016, Published 11:42 a.m. ET
Risk aversion is fading
GICS Sector ETF flows revealed fading investor risk aversion during last week's rally in US equities. In aggregate, the nine sector ETFs saw ~$500 million of net inflows. Investors allocated capital to five GICS sector ETFs while pulling money out of the remaining four.
Article continues below advertisement
Inflows: High-beta ETFs in demand
Examining the chart above, we see that GICS sector ETF inflows totaled ~$1.5 billion during last week's buying frenzy. A closer look at the nature of the inflows shows that investor risk appetite accelerated compared to the preceding trading week. Capital inflows increased from ~$300 million to ~$1.5 billion during last week's equity rally. Plus, investors poured most of their money into "cyclical" or "high-beta" sector ETFs. The ~$390 million of inflows into the Industrial Select Sector SPDR Fund (XLI) are a powerful example—especially since the fund gained ~2.6%, closing at an all-time high. Similar to XLI, cyclical sector ETFs such as the Consumer Discretionary Select Sector SPDR Fund (XLY) and the Materials Select Sector SPDR Fund (XLB) also witnessed inflows.
Outflows: Defensive sectors out of favor
Defensive sector ETFs mostly witnessed capital outflows. The ~$560 million of outflows in the Consumer Staples Select Sector SPDR Fund (XLP) illustrates this point well, as the ETF has the second-lowest historical five-year beta to SPY (0.6). The outflows also go hand-in-hand with a comparatively disappointing weekly performance, as XLP barely broke even. Investors also pulled money out of the Utilities Select Sector SPDR Fund (XLU), which has the lowest beta among GICS sector ETFs. Another reason for the outflows in XLU is the fact that US Treasury yields bounced off their lows. Ten-year yields posted a weekly gain after dropping for six consecutive weeks.
Moving on to Part 3 of this series, we'll examine fund flows within the overall ETF universe. Was the acceleration in "risk-on sentiment" also visible on a broader level? Read on.