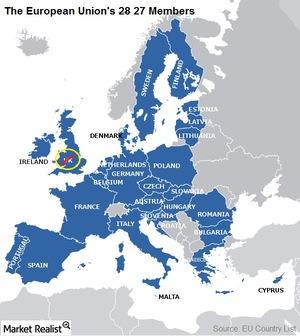 George Soros: Brexit May Spark Disintegration in the European Union
By Surbhi Jain

Nov. 22 2019, Updated 7:13 a.m. ET
Is the EU heading toward a disorderly disintegration?
After Britain's vote exit the European Union, George Soros hears warning bells of the possibility of the EU disintegrating sooner or later.
In a letter to Project Syndicate, Soros noted that he believed the EU is "heading for a disorderly disintegration that will leave Europe worse off than where it would have been had the EU not been brought into existence…. the catastrophic scenario that many feared has materialized, making the disintegration of the EU practically irreversible."
Article continues below advertisement
Soros: Britain had a good deal
According to Soros, Britain had the best deal with the European Union among all the member nations. It had access to the common market along with the privilege to use its own currency, the pound sterling.
Why then, did Britain decide to vote itself out of the monetary union? Soros explains below.
Soros: The European migration crisis and Brexit debate fed on each other
The Leave EU campaign made good use of the migration crisis to promote its cause and add numbers to its support. In contrast, the European Union authorities chose to postpone any major decision-making on the refugee policy in order to avoid affecting the referendum results. However, the policymakers' inaction only added to the chaos in certain countries in Europe (DBEU) (IEV).
With the Brexit vote, the European Union's disintegration has already begun. The pound is already at historic lows against the US dollar (UUP).
World (VXUS) (VT) financial markets are likely to remain in the doldrums until Britain has separated and settled all its political and economic ties with the EU. There is also a possibility of a contagion effect following the Brexit vote, affecting other member nations of the European Union.