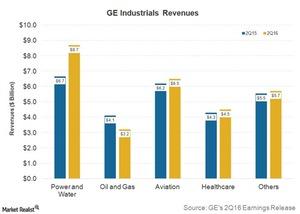 GE in 2Q16: Power, Aviation, and Healthcare Segments Outperformed
By Jessica Stephans

Updated
General Electric's segmental revenues
GE's operations can be broadly classified under its Industrial operating and Verticals businesses. Verticals refer to the financial services (XLF) businesses expected to be retained by GE and primarily include GECC's (General Electric Capital Corporation) vendor financing operations.
General Electric's (GE) 2Q16 revenues came in at $33.4 billion, compared to analysts' estimate of $31.8 billion. Of the total revenues, nearly $31.7 billion came from the Industrial (XLI) business (93%), and the remainder came from GECC (7%).
Article continues below advertisement
General Electric's Industrial revenues
GE's Power and Renewable revenues increased by 30.6% to $8.7 billion in 2Q16, from $6.6 billion in 2Q15. The increase was driven by both the Power and Renewable businesses (PBW). The boost in revenues was on the back of core and power services. Also, the company shipped more wind turbines due to more wind orders. Better power and renewable orders, services offered, and cost initiatives impacted the overall power and renewable segment.
Oil and Gas revenues took a big hit as customers curtailed capital expenditure amid weak crude oil and natural gas prices. The segment reported $3.2 billion in revenues in 2Q16, compared with $4.1 billion in 2Q15, a 22% drop.
Energy Management revenues rose 55% to $2.7 billion in 2Q16, compared with $1.7 billion in 2Q15. However, operating profit fell 57% to $35 million. In 1Q16, the segment incurred a loss of $85 million.
The Aviation segment, which builds jet engines, witnessed a 4% rise in revenues to $6.5 billion in 2Q16, compared with $6.2 billion in 2Q15. The marginal rise in revenues can be attributed to lower military unit sales. The company is also expanding its partnership with Boeing (BA) in this space.
Healthcare revenues rose 4% to $4.5 billion in 2Q16 from $4.3 billion in 2Q15. This was on account of strong volumes in both healthcare and life science services along with cost productivity.
The Transportation segment's revenues fell 13% to $1.2 billion in 2Q16, compared with $1.4 billion in 2Q15. The revenues from sale of equipment fell 6% due to lower equipment deliveries. Management affirms the transportation market is challenging.
The Appliances & Lighting segment reported a 25% decline in revenues during 2Q16 over 2Q15. Revenues came in at $1.6 billion in 2Q16, compared with $2.2 billion in 2Q15. GE sold its appliance business to Haier. The deal was closed on June 6, 2016. We'll discuss the deal in detail in the seventh part of this series.
On a year-over-year basis until July 22, 2016, GE rose 20.4% as compared to a 2.8% drop for the broad-based S&P 500 Index (SPY). On a year-to-date basis, GE has risen 4.9%. GE's large-cap peers are 3M (MMM), Honeywell International (HON), and Illinois Tool Works (ITW).
In the next part of this series, we'll see what's happening with General Electric's Oil & Gas segment.