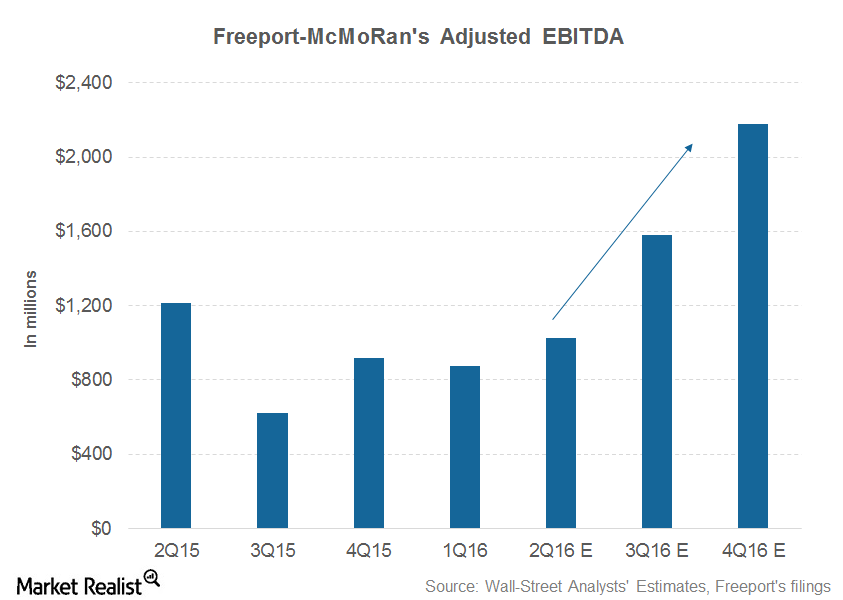 Forget 2Q16: Real Action Could Be in Freeport-McMoRan's 2H16 Earnings
Freeport's earnings
There are several metrics you can use to measure a company's profitability. However, for companies in the commodities space, EBITDA[1. earnings before interest, tax, depreciation, and amortization] is generally used.
According to the consensus estimates compiled by Bloomberg, analysts expect Freeport-McMoRan to post adjusted EBITDA of ~$1.0 billion in 2Q16. To put this in context, Freeport had posted adjusted EBITDA of $873 million in 1Q16 and ~$1.2 billion in 2Q15.
Article continues below advertisement
EBITDA expected to increase
Analysts expect Freeport-McMoRan's (FCX) 2Q16 EBITDA to increase on the back of higher commodity prices. As discussed in the previous part, prices of copper, energy, and gold have been sequentially higher in 2Q16. Notably, these are the three major commodities in Freeport's portfolio.
Meanwhile, Wall Street analysts expect Freeport's EBITDA to rise significantly in the second half of the year. Based on current estimates, Freeport is expected to post adjusted EBITDA of ~$1.6 billion in 3Q16 and ~$2.2 billion in 4Q16.
More gold
The increase in EBITDA seems driven by higher gold production. Freeport-McMoRan expects to produce more gold in 2016 from the Grasberg mine as it completes the open pit operations. This will lead to higher by-product credits and hence drive down the unit production costs. Rio Tinto (RIO) (TRQ) is Freeport's partner in the Grasberg mine.
According to Freeport's guidance, it expects to produce 505,000 ounces of gold in 3Q16 and 950,000 ounces of gold in 4Q16. The company's gold production in 1Q16 was 201,000 ounces while it is expected to produce 195,000 ounces of gold in 2Q16.
Higher gold prices would also help Freeport's earnings in the coming quarters. Gold prices have rallied handsomely this year thanks to the global turmoil and lower interest rates.
In the final part of this series, we'll see how analysts are rating Freeport ahead of its 2Q16 financial results.
You can also consider the Materials Select Sector SPDR ETF (XLB) to get a diversified exposure to the materials sector. Together, Freeport-McMoRan and Newmont Mining (NEM) form ~7.2% of XLB's portfolio.