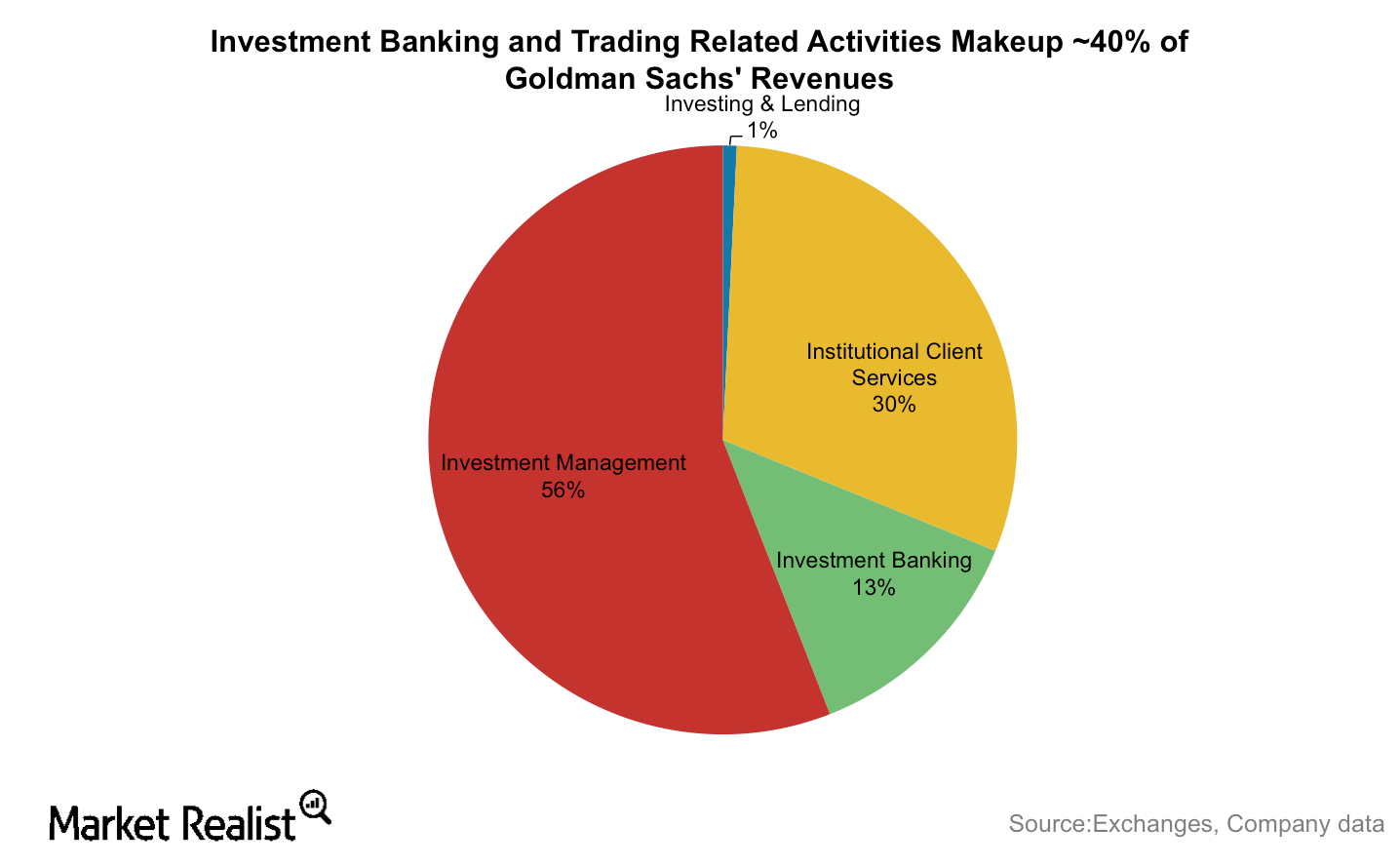 Factors That Will Drive Goldman Sachs' Earnings in 2016
By Rebecca Keats

Dec. 4 2020, Updated 10:53 a.m. ET
What will drive Goldman Sachs' earnings?
Financial markets have been extremely turbulent since the beginning of 2016. Volatile markets have kept clients away from issuing debt or equity, launching IPOs, or making acquisitions. Goldman Sachs (GS) and Morgan Stanley (MS) are the largest investment banks in the United States. They will be hit the hardest by market swings.
Article continues below advertisement
Slow IPO activity
IPO (initial public offering) activity has been slow since the beginning of the year. Although IPOs have picked up in the second quarter, they still remain considerably low. According to an Ernst & Young report, 2Q16 saw improvement. A total of 246 IPOs raised $29.6 billion—a 29% rise in volume and a 120% increase in total capital raised compared to the previous quarter. Overall, the IPO activity this year has been relatively muted compared to last year. There were 437 IPOs that raised a total of $43 billion—a decrease of 38% and 61%, respectively, during the same period in 2015. According to Dealogic, investment banking fees for the overall industry totaled around $17.8 billion—down 18% compared to last year, but up 11% compared to 1Q15.
Trading businesses
Goldman Sachs derives 16% of its revenues from the investing and lending business. It's important to note that 2016 has been a rough year for the financial sector (XLF) (IYF). Due to current macro uncertainty related to the Brexit vote, low GDP growth is expected to drive easing monetary policy. This is positive for the fixed income, currencies, and commodities businesses. Credit Suisse thinks that 2Q16 was the best quarter for credit markets since 2009. Trading activity picked up around the Brexit vote. Going forward, it expects weak GDP growth and concerns regarding Brexit negotiations to result in monetary easing. This is positive for credit markets. It will lead to gains in Goldman Sachs' FICC and debt underwriting businesses.
Brexit
Stocks and companies with significant exposure to the European Union and the United Kingdom are at the greatest risk. Leading brokerage firm Keefe, Bruyette & Woods thinks that Goldman Sachs (GS) and JPMorgan Chase (JPM) are at the highest risk from the Brexit vote given their large United Kingdom-based operating income. Goldman Sachs generated approximately one-fifth of its revenues from its operations in the United Kingdom and it employs 1,600 people.