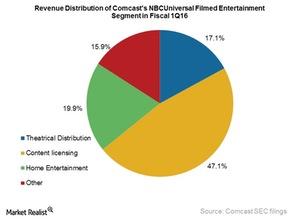 What Factors Could Affect Comcast's International Operations?
By Shirley Pelts

Updated
Brexit impact
The recent Brexit vote could have an impact on box office collections in the United Kingdom (EWU) for Comcast's (CMCSA) new movie, The Secret Life of Pets. The Brexit vote hastened the decline of the British pound against the US dollar (UUP). The pound has fallen by around 11.3% against the dollar in the past three months. However, Comcast uses derivatives to hedge against currency risk.
According to a Los Angeles Times report from June 24 citing a 2015 report from the Motion Picture Association of America, the United Kingdom was the third-largest movie market in the world for Hollywood movies in 2015. The decline in the United Kingdom's currency could disrupt Comcast's Universal Studios programming production budget there. The Los Angeles Times report added that many Hollywood studios prefer to produce programming in the United Kingdom because the country offers a 25% tax incentive to studios.
As the above chart indicates, theatrical distribution accounted for 17.1% of Comcast's Filmed Entertainment revenues in 1Q16. Content licensing revenues accounted for 47.1%, or $652 million, of the Filmed Entertainment segment's total revenues in 1Q16.
Article continues below advertisement
Importance of the Chinese market for Comcast
Considering the rising popularity of English language content around the world, US media companies are focusing more on international markets such as China (FXI). Comcast considers China a market that will generate a significant profit for the company in the long term.
Comcast released the movie Warcraft in China early last month. According to a Bloomberg report, the movie has already surpassed The Walt Disney Company's (DIS) Star Wars in China. At the Guggenheim Securities TMT Symposium in New York last month, Comcast stated that it expects the theatrical market in China to grow by 30% per year. Considering the success of its movies in China, the company is distributing its movies there through its own distribution team in the country.
Comcast plans to open a theme park in Beijing, China. The company makes up 0.89% of the SPDR S&P 500 (SPY) ETF. SPY makes up 3.5% of the computers sector.