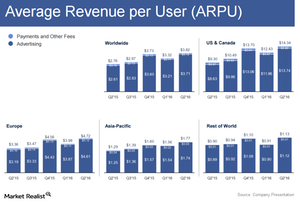 Facebook's Revenue per User Is Strongly Trending Upward
Facebook's ARPU trends look strong
Facebook's (FB) ARPU (average revenue per user) rose by 38.4% YoY (year-over-year) to $3.82 in 2Q16, driven by the increase in user engagement and higher ad prices. Sequentially, Facebook's ARPU increased by 15%.
Average revenue per user (or ARPU) is a key metric for Internet companies, as it helps analyze how well a company can monetize its user base.
Regionally, ARPU increased the most in the United States and Canada (EWC) and was up by 54%. This was followed by Europe and Asia-Pacific, where ARPU rose by 40% and 37%, respectively. ARPU in the rest of the world rose by 26% during the quarter.
Article continues below advertisement
How Asia-Pacific could be the next growth driver
As the chart above shows, the Asia-Pacific region has a lower ARPU than the United States and Canada. However, the former has more growth potential than the latter, owing to its large population. Facebook earlier stated that user growth was more rapid in areas with lower ARPU, and it expects that user growth will primarily be concentrated in regions where its ARPU is lower.
In 2Q16, Facebook's ARPU came in at $1.77 for Asia-Pacific compared to $14.34 in the United States and Canada. However, user growth in Asia rose at a much faster rate than in other parts of the world.
The number of Facebook users from Asia grew at a rate of 19% YoY compared to 15% YoY growth in global users in 2Q16. Monthly active users (or MAUs) for the Asia-Pacific region stood at 592 million compared to total MAUs of 1.71 billion.