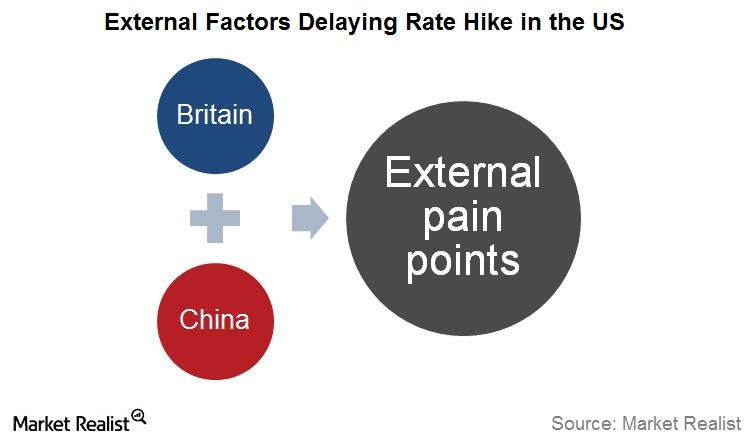 What Has Impacted the Global Financial Markets in 2016?
By David Ashworth

Jul. 13 2016, Published 12:27 p.m. ET
It started with China
When the FOMC (Federal Open Market Committee) raised the federal funds rate in December 2015, policymakers were aggressive regarding future rate hikes. According to the "dot plot" released along with the December policy announcement, you could gauge three to four rate hikes in 2016. The dot plot graphically represents the median estimates of the level of the federal funds rate by the end of a year. One dot represents the estimates of one member.
However, 2016 changed all of that. Apart from crude oil prices, it was China (FXI) (YINN) whose shaky economic fundamentals resulted in panic in global financial markets. China's story is far from over, but it has certainly taken a backseat to the recent developments in the United Kingdom.
Article continues below advertisement
United Kingdom
Although Brazil (EWZ) was also in the news when its senate ousted Dilma Rousseff as president and started impeachment proceedings against her, it's the United Kingdom (DBEU) (VGK) (IEV) that's commanding all of the spotlight right now.
The United Kingdom's story had been simmering since 2Q16. It came to a boil on June 24 when the United Kingdom surprised many by voting to leave the European Union. This decision impacted global equities (VEU) (VT) and bonds because of the message it sent.
Worries about Greece (GREK) being forced out of the European Union based on reluctance or defiance on economic austerity is one thing, but the United Kingdom leaving on its own terms made the European Union fragile and susceptible to more voluntary exits. This threatens the very fabric of the region.
US President Barack Obama wanted the United Kingdom to stay in the European Union. Later, he said that he respected the United Kingdom's decision. Apart from the impact on trade, the decision impacted US monetary policy. Let's look at this in detail in the next part.