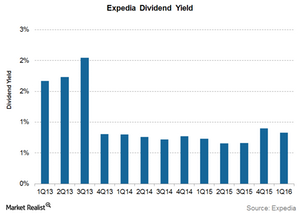 Expedia Likely to Continue Dividend Payouts
Recent dividend payer
Article continues below advertisement
Dividend yields
Expedia has a current dividend yield of 0.82%. This is much lower than the S&P 500's (SPY) dividend yield of ~2.0%.
Cash dividend ratio
Expedia's adjusted cash dividend ratio stood at 0.11x at the end of 1Q16, indicating its inability to sustain dividend payouts at the current rate. The ratio is calculated as adjusted income before extraordinary items minus minority and preferred dividends over dividends paid.
This ratio measures the ability of the company to pay dividends. A ratio of less than 1 indicates dividend payouts higher than the company's cash flows, which may be difficult to sustain in the future.
Can dividend payouts increase?
Expedia (EXPE) is the only online travel player to pay a dividend to its investors. Expedia's dividend payout has also consistently increased. However, EXPE has recently allocated more capital toward repurchasing shares. Given the increasing earnings and EXPE's history of dividend growth, investors can expect an increase in dividends.