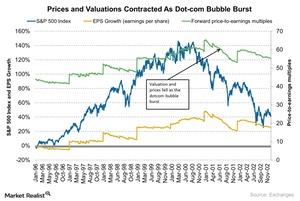 Equity Valuation Fell by 47% When the Dot-Com Bubble Burst
By Sarah Sands

Jul. 20 2016, Updated 11:13 a.m. ET
Equity valuation at the time of the dot-com bubble crisis
The major event of the mid-1990s was the Internet (or dot-com) bubble, when Internet businesses experienced exponential growth. However, this growth wasn't earnings growth. It was a bubble created by the overvaluation of these stocks.
The collapse of this bubble took place between 1999 and 2001. The information technology sector (XLK) of the United States (QQQ) (IWM) saw a massive sell-off. The S&P 500 Index (SPXL) (VFINX) shed about 761 points, falling by 50% from its high of 1,500 in January 2000.
During this time, earnings fell by about 9%, and valuations fell by 47% from a high of 25.89x in March 2000 to a low of 13.73x in July 2002. Read Why Equity Valuations Need to Adjust, Not Collapse to learn more.
Article continues below advertisement
How did the Market react?
We've learned that the index fell by 50% during this crisis. However, the first time this event affected the Market, it triggered a slow fall in the index level. Later, on a broader level, it caused huge losses. The downturn in the index started in August 2000.
In the next part of this series, we'll analyze how the S&P 500 Index reacted during an upward phase from 2003 to 2007.