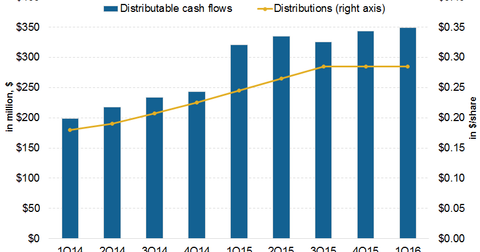 Why Energy Transfer Equity's Cash Flow Could Stay Flat in 2016
By Kurt Gallon

Updated
Distribution of $0.29
Energy Transfer Equity (ETE), which is mainly dependent upon distribution income from its MLP subsidiaries, declared a distribution of $0.29 per unit in 1Q16. This represented a 16% YoY (year-over-year) rise compared to 1Q15.
ETE holds the following LP (limited partner), GP (general partner), and IDR (incentive distribution rights) interests in its subsidiaries:
Energy Transfer Partners (ETP): ~1% LP interest, 100% GP interest and IDRs
Sunoco Logistics Partners (SXL): 90% GP interest and IDRs through ownership of Class H units in ETP
Sunoco (SUN): 100% of GP interest and IDRs
Energy Transfer LNG: 100% interest
According to ETE's 1Q16 conference call, "Distributions from ETP accounted for 68% of ETE's total cash flows in the last quarter. SXL contributed 18%, Lake Charles LNG contributed 10%, and Sunoco LP contributed 5%."
Next, we'll look at the distribution of its major subsidiaries.
Article continues below advertisement
Energy Transfer Partners
Energy Transfer Partners declared a distribution of $1.06 per unit in 1Q16, which represented a 3.9% rise compared to 1Q15. However, ETP's distribution remained flat compared to the previous quarter. ETP is expected to continue with at least the same distribution in 2016, given its low coverage and high leverage.
According to Thomas Long, ETP's chief financial officer, "We continue to evaluate our distributions on a quarterly basis and will be prudent as it relates to balancing coverage and liquidity with distribution. However, our primary objective at this time will be to maintain our investment-grade rating at ETP."
ETE has proposed a waiver of IDRs on new equity issued by ETP to support its growth plans. However, this potential waiver hasn't been approved by the ETE board. We'll have to wait and see if ETE goes ahead with this plan to support ETP.
Sunoco Logistics Partners
Sunoco Logistics Partners declared a distribution of $0.49 per common unit in 1Q16. This represented a 17% YoY rise over 4Q14 and a sequential rise of 2.1%.
The partnership could continue to grow its distribution in the coming quarters, driven by strong distribution coverage and growth in distributable cash flows from various fee-based projects that are expected to come online in 2016.