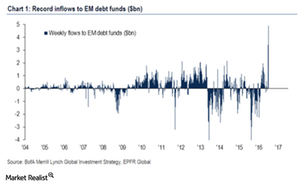 The Sweet Spot of Emerging Market Debt
By VanEck

Jul. 28 2016, Updated 9:09 a.m. ET
Current Conditions Support Emerging Markets Debt
In the near term, the precarious position of European banks – a situation that has persisted but has moved in and out of focus over the last four years – in combination with a variety of risks to global growth prospects will likely keep the hawks at bay. While global growth statistics remain within muted expectations, EM debt and equity could remain the beneficiaries of additional capital flows for some time. The inflows to EM debt funds to date in 2016 are quite small relative to what left EM debt funds in 2015.
Article continues below advertisement
Under current conditions, we expect to see an acceleration of inflows during the second half of the year. Valuations, positive real rates of interest, and EM central banks with (conventional) policy flexibility are all supportive of the case for EM. The risks are many, including further growth deceleration and a reversal in the commodity price recovery. On the flip side, a rate shock, as unlikely as it may seem at the moment, could cause a sharp reversal in flows to various debt asset classes, including EM.
Market Realist – Emerging markets witnessed strong inflows
The banking sector in Europe (IEUR) is saddled with a large amount of bad debt, coupled with financial stress. Italy, which is at the center of the European banking crisis, is riddled with bad debt to the tune of 360 billion euros, or around 33% of the Eurozone's total bad debt. The worry is that the collapse in Italian banks might put other European banks at risk.
Heightened uncertainties caused by the Brexit vote and other concerns mean we may see global (EFA) growth easing further. The World Bank has downgraded its global growth forecast for 2016 to 2.4% from the 2.9% projected in January. The move is due to sluggish growth in advanced economies, low commodity prices, weak global trade, and declining capital flows.
Under the current economic circumstances, EM (emerging markets) are likely to be less affected than developed markets. As a result, investors flocked to EMs (HYEM) over the past month while withdrawing a substantial amount from European equities. According to Institute of International Finance, portfolio flows to emerging markets surged to $16.7 billion in June after nearly zero inflows in May.
According to the Bank of America Merrill Lynch, EM debt funds (EMLC)(EMB) witnessed record inflows of $4.9 billion for the week ended July 22 while EM equities received inflows worth $4.7 billion, the highest in the past year. During the same week, European equity funds reported a record outflow of $6.2 billion and 24 consecutive weeks of outflows.