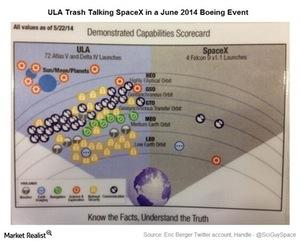 How Elon Musk's SpaceX Is Turning Up the Heat on Lockheed Martin
By Shannon Black

Jul. 19 2016, Updated 10:06 a.m. ET
Lockheed Martin and Boeing's joint venture: United Launch Alliance
Lockheed Martin's (LMT) Space Systems segment generated $9.1 billion in revenues in 2015, representing 20% of total annual revenues. The segment generated $1.2 billion in operating profits, which accounted for 21.3% of the company's operating profits in 2015. In 2006, Lockheed Martin formed a joint venture with Boeing (BA) to provide spacecraft (XAR) launch services to the US government. This joint venture is called the United Launch Alliance, or ULA, and its profits account for 25%–30% of LMT's Space (PPA) Systems segment's operating profits.
ULA held a monopoly on military space launches for ten years until January 2016, when the privately held Space Exploration Technologies, or SpaceX, bagged an $83 million contract from the U.S. Air Force to launch a GPS satellite.
Article continues below advertisement
Why ULA lost out on the GPS satellite contract
ULA didn't participate in the bidding process and cited implications from sanctions limiting the use of Russian engines, among other reasons, as cover for its nonparticipation. However, Brett Tobey, vice president of engineering at ULA at the time, offered a different view of why the company didn't bid for the contract during his talk addressed to students at the University of Colorado Boulder. He said SpaceX could offer launch services for as low as $60 million, whereas the lowest price ULA could offer was $125 million. Brett Tobey was fired the very next day for these remarks. However, his comments indicated that the well-entrenched and most reliable rocket company in the United States wasn't able to compete with a startup.
Problems with structure and decision making
In his assessment of decision making, Brett Tobey stated that startups like Blue Origin, which is backed by billionaire investor and Amazon (AMZN) chief Jeff Bezos, could make billion dollar investments in split seconds, whereas ULA had to call many people in the government to win support. He also stated the 50-50 joint venture made LMT and Boeing dysfunctional parents and it would have to change its corporate structure if ULA were to compete with startups like SpaceX and Blue Origin.
In the final part of this series, we'll look at analysts' target prices for Lockheed Martin's stock.