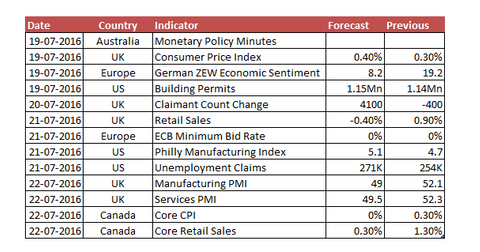 European Central Bank Will Be in the Limelight This Week
By David Meyer

Updated
European Central Bank to cut rates?
The major event of the macro calendar of the week starting July 18 will be the ECB's (European Central Bank) monetary policy meeting on July 21, 2016. This will be the ECB's first meeting since the Brexit referendum. The odds of the EBC cutting the rate or expansion in the quantitative easing program decreased since last week. The week saw the BOE (Bank of England) stay away from rate cuts. The BOE's decision would have a major impact on the ECB's meeting.
Article continues below advertisement
Looking at the factors in favor of a rate hike, the Italian (EWI) bank crisis, the rise of the euro (DBEU) (EWG) against the pound, and market uncertainties that continue to prevail after the Brexit vote could see the ECB make tough decisions. Mario Draghi, the ECB's chief, won't shy away from taking the first initiative in the easing regime after the Brexit vote. All of these factors would result in heavy volatility in global markets this week.
Major UK data release this week
Looking at the United Kingdom's major data release for the week, we have the CPI (consumer price index) scheduled for July 19. It's expected to rise slightly after the rebound in energy prices. The employment report is expected to come out strong on July 20, while retail sales are expected to drop in the data release scheduled for July 21. The manufacturing and service purchasing managers' index held its ground in the previous release. It's expected to fall this month. It's scheduled for July 22, 2016.
Other data releases this week
US (XHB) building permit data are scheduled for July 19. The data are expected to throw more light into development in the real estate sector. In other major releases this week, we have the Philly Fed manufacturing index and unemployment claims release on July 22.
The Canadian (EWC) CPI and retail sales are expected to fall on the Statistics Canada release scheduled for Friday morning.