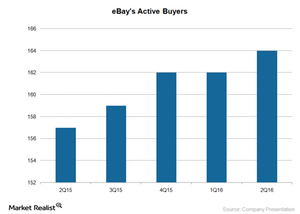 How eBay Managed to Increase Active Buyers in 2Q16
By Amit Singh

Updated
Growth in active buyers is encouraging
The key highlight of eBay's (EBAY) 2Q16 results is the increase in the number of active buyers on its platform. The company managed to add more than 1 million new buyers to its platform during the reported quarter, as can be seen in the chart below.
Growth in active buyers remained stable at 4% YoY (year-over-year) due to the marketing programs and promotions that drove higher engagement and retention. However, management noted that the SEO (search engine optimization) had no material impact on new buyer acquisition, although it improved on a quarter-over-quarter basis.
eBay announced turnaround strategies to reinvigorate growth in its Marketplace unit since its separation from PayPal (PYPL). However, the company struggled to attract online buyers when compared with Amazon (AMZN).
Article continues below advertisement
eBay's efforts to stimulate buyer growth
eBay (EBAY) has introduced structured data initiatives to bring new buyers on board. eBay is working on improving its platform's search capabilities and is encouraging sellers to provide more product reviews in order to enhance the shopping experience.
Earlier, eBay's product listings weren't standardized, which made it difficult for search engines such as Google (GOOG) and Microsoft's (MSFT) Bing to index eBay's inventory. However, the company's initiative to bring granularity to its listings is helping to increase exposure for items in organic searches.
As a result, both sellers and buyers will benefit from the increase in visibility of products filtered through several parameters, including deals and promotions.
More recently, the company stated that it is leveraging open source Accelerated Mobile Pages (or AMP) technology to speed up the display of its web pages on mobile devices. This move is expected to enhance the user experience of those who come to eBay from external platforms, as users will be able to quickly compare prices.
All these initiatives are likely to spur active user growth on eBay's platform. However, the benefit is expected to come gradually and should take a few months to show material results.