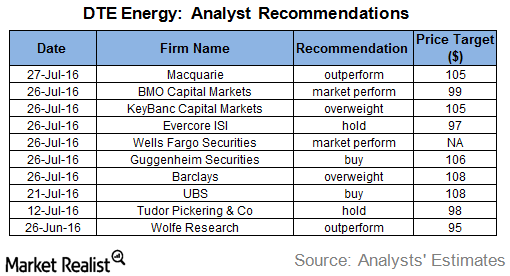 Is DTE Energy Poised for Long-Term Growth?
By Vineet Kulkarni

Nov. 20 2020, Updated 10:46 a.m. ET
DTE Energy's price targets
According to Wall Street analyst estimates, DTE Energy Holding (DTE) has a median price target of $101.60 for next year. This implies an estimated upside of nearly 4% against its current Market price of $98.
Of the 15 analysts tracking DTE Energy, six recommend the stock as a "buy," and nine recommend it as a "hold." None of the analysts gave the stock a "sell" recommendation as of July 27, 2016.
The table below shows broker recommendations for DTE Energy for the next year.
Xcel Energy (XEL) has an expected downside of nearly 1% in the next year. It has a price target of $44 compared to its current Market price of $44.30 as of July 27, 2016.
CMS Energy (CMS) has an estimated downside of more than 2% in the next year. According to analysts, it has a price target of $44 against its current Market price of $45.
Article continues below advertisement
The road ahead for DTE Energy
DTE Energy management increased its midpoint of 2016 EPS (earnings per share) growth forecast from 2.2% to almost 5% after its 2Q16 earnings announcement. Strong performance from its Pipeline segment is expected to continue and may even contribute more to consolidated earnings when the Nexus pipeline becomes operational.
The increase in DTE Energy's 2016 earnings guidance and dividends is a good sign since the industry is struggling with lower electricity demand growth. DTE Energy's diversified business mix differentiates it from pure-play electric utilities. Its focus on investments in its Gas and Pipeline segments can accelerate earnings growth above the industry average. Ultimately, that bodes well for dividend growth.