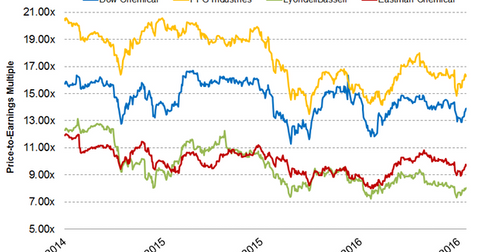 How Is Dow Chemical Valued Compared to Its Peers?
By Peter Neil

Updated
Dow Chemical's valuations
Dow Chemical (DOW) announced its 1Q16 earnings on April 28, 2016. DOW stock fell 0.3%, from $53.60 to $53.42. The company reported operating EPS (earnings per share) of $0.89 in 1Q16 compared to 0.84 in 1Q15. This implies an increase of 6% on a year-over-year basis.
From April 28 to July 15, 2016, DOW stock has fallen 2.9%, from $53.60 to $52.06.
Article continues below advertisement
Forward price-to-earnings
Forward PE (price-to-earnings) is a good relative valuation method that considers the company's future earnings for calculation. In the past two years, Dow Chemical has been trading at a one-year forward PE multiple of 11.6x–16.6.0x.
As of July 15, 2016, Dow Chemical was trading at a one-year forward PE multiple of 13.9x compared to peers such as PPG Industries (PPG), LyondellBasell (LYB), and Eastman Chemical (EMN). They're trading at one-year forward PE multiples of 16.4x, 8.0x, and 9.70x, respectively.
EV-to-EBITDA valuation
The EV-to-EBITDA (enterprise value to earnings before interest, taxes, depreciation, and amortization) multiple is an important relative valuation multiple that's widely used in capital-intensive industries such as the chemical industry. This multiple considers debt for calculation and is thus a better metric than PE ratio.
As of July 15, 2016, Dow Chemical's one-year forward EV-to-EBITDA ratio was 8.0x. PPG Industries, LyondellBasell, and Eastman Chemical had forward EV-to-EBITDA ratios of 11.0x, 6.1x, and 7.4x, respectively. This multiple is calculated based on a company's estimated EBITDA for the next 12 months.
Investors can hold Dow Chemical indirectly by investing in the Fidelity MSCI Materials ETF (FMAT), which has 7.7% of its portfolio in Dow Chemical as of July 15, 2016.
In the next part, we'll look at analyst recommendations for Dow Chemical.