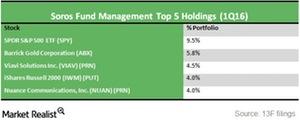 Trump and Soros Expected a Brexit, Jeffrey Gundlach Did Not
By Surbhi Jain

Updated
Donald Trump's inclination was for Brexit
A day before the June 23 Brexit referendum, Maria Bartiromo interviewed the US (VFINX) (IWM) (QQQ) GOP presidential candidate, Donald Trump. During her Fox Business Network program, Mornings with Maria, she asked Trump what he thought Britain should be doing.
Here's what Trump had to say: "I don't think anybody should listen to me [because] I haven't focused on it very much…but my inclination would be to get out…When you look at what happened with the, as an example, with the migration…I would probably vote to get out."
Article continues below advertisement
Some were positioned for Brexit
One of Odey Asset Management's hedge funds gained 15% on the Brexit vote results. Crispin Odey, who heads the firm, made over 220 million pounds on June 24. Crispin's win can be attributed to his big short positions in the pound and certain company stocks. The fund's performance was also boosted by its wagers on gold
George Soros seems to have been prudent in his bets and with his expectations for the Brexit vote. Soros had loaded his portfolio with gold (GLD) (IAU) and gold miners (GDX) such as Barrick Gold (ABX).
These investments were bound to rise in the event of vote in favor of Brexit, as volatility and uncertainty drive investors to safe-haven assets such as gold and bonds (BND).
Others had positioned themselves for a Bremain
There were others, such as billionaire investor Jeffrey Gundlach, who had positioned themselves expecting Bremain. Gundlach, however, sold off his newly acquired European stock positions before the Brexit results impacted the Market. Hedging against probable losses, Gundlach managed to realize a decent 10% return within a week on his European bets by exiting before the Market crashed.
In a Wall Street Week interview the day after the Brexit vote, Marc Lasry, CEO of Avenue Capital, stated that he would have bet on Britain staying in the European Union. However, Lasry had positioned his portfolio so that it would be fine under either referendum result.
Ben Huneke, who runs the alternative investments area at Morgan Stanley (MS), disclosed that the company had positioned its hedge portfolio for a Bremain. Huneke noted that he was surprised by the result of Britain deciding to exit the European Union.