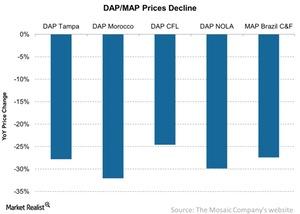 Where DAP and MAP Prices Stand and Their Drivers
By Adam Jones

Updated
Phosphate prices
Previously in this series, we looked at the largest producers of phosphate fertilizers globally. Of the phosphate fertilizers, DAP and MAP (diammonium phosphate and monoammonium phosphate) variants are used the most frequently.
According to Yara International, DAP and MAP alone accounted for 57% of total phosphate fertilizer consumption globally.
Article continues below advertisement
Prices decline
With total phosphate capacity far exceeding the total demand, there is downward pressure on phosphate prices. On July 15, DAP prices were trading significantly lower compared to the past five years.
DAP prices in North America are down by an average of 27% YoY (year-over-year). DAP was trading at $340 per metric ton at Tampa, down by 28% YoY. At CFL (Central Florida), it was trading at $325 per short ton (or $294 per metric ton), down by 25% YoY. At NOLA (New Orleans), it was trading at $305 per short ton (or $276 per metric ton), down by about 30% YoY.
Prices were down by 32% at Morocco, at $341 per metric ton YoY. Morocco is the largest producer of phosphate rock, which is the primary feedstock required for the production of phosphorous fertilizers.
MAP prices were also down significantly YoY by 27%, at $352 per metric ton in Brazil on a cost and freight basis.
Why prices are important
Companies such as Mosaic (MOS), PotashCorp (POT), Agrium (AGU), and Israel Chemicals (ICL) that produce and sell phosphorous fertilizer to the market (XLB) depend on the spread between their production costs and realized prices in the market.
The higher the spread, the greater the margin for these companies. To understand this spread, let's look at cost curves for phosphate producers next.