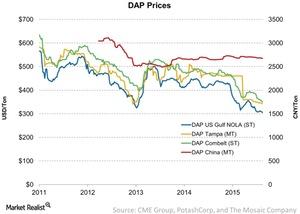 How DAP Prices Moved for the Week Ending July 15
By Adam Jones

Updated
DAP and MAP
Ammonium phosphates such as DAP (diammonium phosphates) and MAP (monoammonium phosphates) are the most consumed phosphate fertilizers globally.
Since ammonia is a feedstock for producing DAP and MAP, ammonia and natural gas prices, along with phosphate rock prices, impact phosphate fertilizer producers such as Mosaic (MOS), Israel Chemicals (ICL), and Agrium (AGU).
Article continues below advertisement
DAP prices
In the week ending July 15, the movement in average prices for phosphate fertilizers was mixed. DAP in the Corn Belt was $317.5 per metric ton. It moved sideways compared to a week ago. Current prices continue to be at their lowest levels since November 2011. They have declined by 24% YoY (year-over-year).
The average US Gulf NOLA (New Orleans) DAP prices inched up to $281 per metric ton from $276 per metric ton in the previous week.
In contrast, prices moved down at Port Tampa Bay last week. DAP prices declined to $340 per metric ton from the previous week's $343 per metric ton. Similar to nitrogen fertilizer prices, US Gulf Coast NOLA DAP prices at Port Tampa Bay fell by an average of 28% YoY.
Average DAP prices in China also declined last week at 2,670 Chinese yuan per metric ton—compared to 2,676 Chinese yuan a week earlier. Current DAP prices in China are well above their low point of 2,491 yuan two years ago.
The iShares Global Materials ETF (MXI) invests about 4.5% of its portfolio in agricultural chemicals including Dow Chemical (DOW) and DuPont (DD).
In the next part of this series, we'll turn our attention to the second-most-important phosphate fertilizer—MAP.