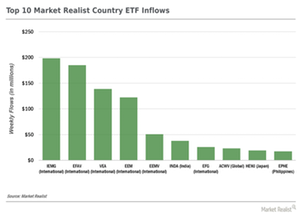 Country ETFs: Rates and Currency Movements Drive Flows
By Meikel Mokry

Jul. 11 2016, Published 11:42 a.m. ET
Inflows: Flows return to emerging markets as yields tumble
The iShares Core MSCI Emerging Markets ETF (IEMG) saw the largest inflows among country ETFs last week.
This result wasn't so much a function of emerging market growth. Rather, it was due to the inverse relationship between developed-market government bond yields and emerging market equities. Yields in emerging markets have historically been higher than developed markets to compensate for the higher risk in emerging economies. Over the past couple of years, yield-hungry investors have often accepted these risks as developed market Treasury yields decreased. This relationship was especially strong on Friday. IEMG rallied ~2.0% as US ten-year yields took another hit. The iShares Edge MSCI Min Vol EAFE ETF (EFAV) ranked second in terms of inflows, perhaps as investors sought the fund's less volatile sector bias.
Article continues below advertisement
Outflows: Heavy outflows out of European-focused ETFs
In Part 3 of this series, we explained that outflows from the Eurozone and Japan were mostly driven by post–Brexit vote volatility in foreign exchange markets. This effect becomes even more visible when you look at the outflows from country ETFs in isolation.
The iShares MSCI Eurozone ETF (EZU) lost the most money last week. Investors pulled out ~$600 million as the fund fell ~2% on the week. Significantly, the top five country ETF outflows were dominated by European-focused ETFs. Ranked three to five were the iShares MSCI Germany ETF (EWG), WisdomTree's Europe Hedged Equity Fund (HEDJ), and Vanguard's FTSE Europe ETF (VGK). These results could hint that the uncertainty around Europe's future will remain one of the biggest risks in the second half of 2016.