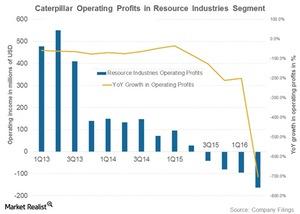 How Consolidation in the Mining Industry Impacts Caterpillar
Caterpillar Mining Sector performance
Caterpillar's (CAT) sales in the Resource Industries segment, which houses the Mining (PICK) Equipment business, fell by 29% year-over-year in 2Q16 to $1.4 billion. The pricing and end-user demand continue to be weak as customers are delaying not just replacements but also repairs.
The segment had an operating loss of $163 million and operating margins were -11.1%. While the last three quarters have also posted a loss, this was the largest loss so far in the segment. The company has stated that 2Q16 will probably be its worst quarter in the year, although the streak of losses is unlikely to abate by the end of 2016.
Article continues below advertisement
Merger of Joy Global and Komatsu
Komatsu, the Japan-based machinery manufacturer announced on July 21, 2016, that it would acquire Joy Global (JOY), a US-based mining equipment manufacturer, for $2.9 billion. The deal is expected to be closed by mid-2017 following an antitrust review.
Due to the drawn-out nature of the process, it is rumored that Volvo (VOLVY) or Sandvik could also become involved in a bid to acquire Joy.
Mining equipment is classified based on whether it is intended for surface mining or underground mining operations. Komatsu has a presence only in the surface mining equipment, whereas Joy has a formidable presence in underground mining.
This comprehensive product suite is likely to enable the combined firm to compete with Caterpillar on a much stronger footing. Therefore, increasing industry consolidation where Caterpillar has a comprehensive portfolio, as well as the upper hand, is slightly negative for the company.
Komatsu has also done a better job of timing its acquisition. Caterpillar had acquired Bucyrus for $8.6 billion in 2011, when the mining industry had reached its peak. Joy Global had earned more in EBITDA compared to Bucyrus in 2010 and is now priced at almost a third of Bucyrus at the bottom of the mining (XME) cycle.