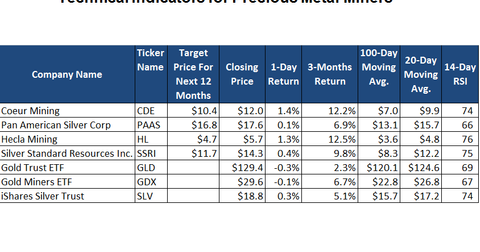 What Do Coeur Mining's Technical Indicators Point To?
By Anuradha Garg

Updated
Technical indicators
Earlier, we analyzed Coeur Mining's (CDE) business fundamentals and analyst expectations. Although the company's operating environment has improved due to higher gold (GLD) and silver (SLV) prices, it still might not be enough to justify the current surge in Coeur's share prices.
Article continues below advertisement
Imminent pullback?
Traders and investors look at moving averages when deciding whether to enter or exit markets. Usually, if a stock is trading below its 20-day or 100-day moving averages, it's an indication that the stock is oversold. Similarly, if a stock is trading much higher than its 20-day or 100-day moving averages, it indicates an overbought position.
Coeur and its closest peers are currently trading above their respective 100-day and 20-day moving averages.
Coeur is trading at a whopping 72% above its 100-day moving average and 21% above its 20-day moving average. Pan American Silver (PAAS), Hecla Mining (HL), and Silver Standard Resources (SSRI) are trading 34%, 57%, and 71%, respectively, above their 100-day moving averages.
The above table shows the moving averages, forward target prices, and returns of the four major silver and gold producers in the United States.
Relative strength index
As the RSI (relative strength index) approaches 70, assets may be overvalued, and we could see a fall in prices. If the RSI approaches 30, it shows that an asset may be oversold and could become undervalued.
Based on its July 7, 2016, closing price, Coeur Mining is trading at an RSI of 74. Although technical indicators indicate a short-term pullback in Coeur's share price, the markets can remain overbought or oversold for extended periods.
The current overbought situation is also apparent in GLD and SLV. They're trading 8% and 20%, respectively, above their 100-day moving averages. For more information on gold's price performance and outlook, you can read Is Gold Set to Remain Higher for Longer Post-Brexit?