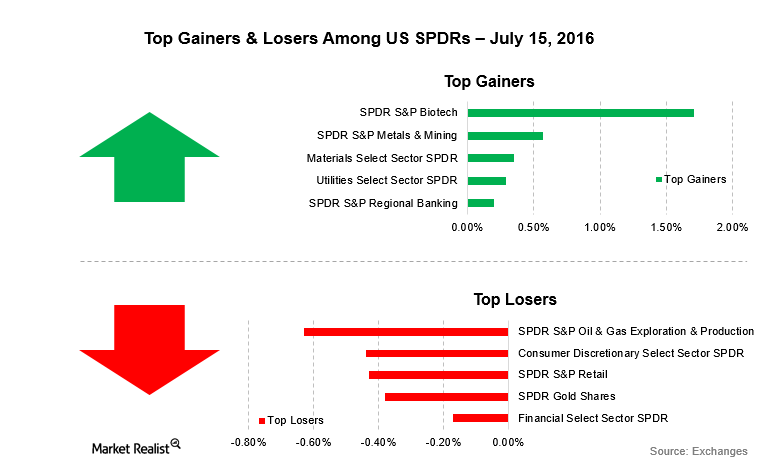 Could the Rise in Retail Sales and CPI Impact Portfolios?
Retail sales rose
The United States Census Bureau published the US retail sales report for June on July 15, 2016. Retail sales reported a broad rise of 0.6% in June on a month-over-month basis. The strong rise in retails sales is an indication of strong consumer spending. Non-store retailers and building material & garden equipment & supplies dealers posted the strongest percentage rise. They rose by 1.1% and 3.9%, respectively. Only two out of the 13 sectors showed a decline. The food services and clothing business fell by 0.3% and 1.0%, respectively.
Core retail sales rose by 0.7% in June—compared to forecasts of a rise of 0.4% in June.
Article continues below advertisement
CPI is still solid
The U.S. Bureau of Labor Statistics published the CPI (consumer price index) for June. It rose by 0.2% for the second straight month—it was mainly in line with the forecasts. The rise was primarily down to the increase in fuel prices and rental costs. The core CPI excludes food and energy. It also saw a rise of 0.2% on a month-over-month basis.
Among other releases, the capacity utilization rate—the percentage of resources that are being used with respect to the available resources—rose to 75.4%. The Fed also published the industrial production number—it rose by 0.6% on a month-over-month basis.
Mixed reaction from the SPDRs
Looking at major sector-based SPDR indexes, the SPDR S&P Oil & Gas Exploration & Production ETF (XOP) was trading on a weaker note. It fell by 0.63% on July 15, 2016. In contrast, the SPDR S&P Biotech ETF (XBI) posted the highest rise among SPDRs—it rose by 1.7%.
The banking sector remained flat. The SPDR S&P Bank ETF (KBE) and the SPDR S&P Regional Banking ETF (KRE) had a slight rise of 0.03% and 0.20%, respectively.