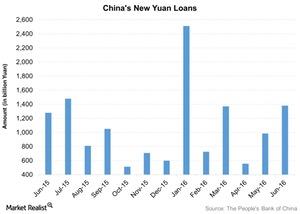 China's New Yuan Loans and Aggregate Financing Surge in June
By Lynn Noah

Jul. 22 2016, Updated 1:13 p.m. ET
New loans rise in June
According to the People's Bank of China (or PBoC), new loans issued by Chinese banks rose to 1.4 trillion Chinese yuan ($206 billion) in June from 985.5 billion yuan ($150 billion) in May. Total social financing, a broader measurement of credit in the economy, amounted to 1.6 trillion yuan in June, up from 659.9 billion yuan in May. The rise in new loans indicates that the central bank has stepped up to support the growth of the Chinese economy.
Article continues below advertisement
Broad money supply rose by 11.8% year-over-year (or YoY) in June. The growth was unchanged from May but slower than the annual target of 13% in 2016, set by the PBoC. M2 includes not only cash and checking deposits but also savings deposits, money market mutual funds, and other time deposits, which are less liquid but can be quickly converted into cash or checking deposits.
China's aggregate financing surges
Aggregate financing is the broadest measure of credit growth in the economy. It measures liquidity by adding total funds provided by the financial system to non-financial sectors and households.
China's aggregate financing rose to 1.6 trillion yuan ($244 billion) from 659.9 billion yuan ($115.2 billion) in May. A surge in aggregate financing indicates that the PBoC is pumping money into the slowing economy to prop up growth.
Article continues below advertisement
Road ahead
The loan and aggregate financing growth indicates that the PBoC is extending all of the support to the Chinese economy. However, it also increases debt for the country, which is rising at an alarming rate.
The government is trying to shift from a manufacturing and export-oriented economy to a service and consumer-driven economy in order to achieve a 6.5% growth target in 2017, down from 6.9% last year. However, the massive government and corporate debt and real estate glut are major risks to the economy's foundations. Although the economy has shown some signs of stabilizing in the recent months, whether it can sustain it is a major question.
Impact on funds
The rise or fall in new yuan loans does not directly impact the overall performance of mutual funds or ETFs. However, it gives an idea about the amount of money flowing into the economy.
Investors can invest in Chinese shares through mutual funds such as the AllianzGI China Equity Fund – Class A (ALQAX) and the Fidelity Advisor China Region Fund – Class A (FHKAX), ETFs such as the iShares China Large-Cap ETF (FXI) and the Deutsche X-trackers Harvest CSI 300 China A-Shares ETF (ASHR), or American depositary receipts such as Alibaba Group Holding (BABA), Baidu (BIDU), and Youku Tudou (YOKU). In the next part of this series, we'll look at China's foreign reserves.