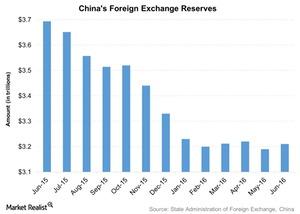 China's Foreign Reserves Rise in June: Here's Why
By Lynn Noah

Dec. 4 2020, Updated 10:53 a.m. ET
China's foreign reserves rose in June
According to the State Administration of Foreign Exchange, China's foreign reserves rose by $13.5 billion in June to $3.2 trillion. June's increase was the largest in 14 months. The rise in reserves was mainly attributed to the strengthening of haven assets such as the US dollar and the Japanese yen against the Chinese yuan due to the Brexit vote. The surprise increase in June's foreign exchange reserves was also partly due to tighter capital controls, which reduced capital outflows.
Article continues below advertisement
Yuan is widely expected to weaken further
Analysts and financial markets expect the yuan to weaken further in the coming months. Outflows will surge if the Fed hikes the federal funds rate. As reported by Bloomberg, Bank of America (BAC), UBS (UBS), Goldman Sachs (GS), and Royal Bank of Scotland (RBS) have trimmed their outlook on the yuan recently, to 7 per US dollar. On July 5, Bank of America forecast that the yuan could slide by more than 4% to 7 by the end of the year, a level unseen since 2008, while UBS predicted a decline to as low as 7.2 sometime next year. On July 6, Goldman Sachs, Royal Bank of Scotland, and ABN AMRO (ABN) stated that they expect the exchange rate to reach 7 in 2017.
Chinese sources recently told Reuters that the PBoC (People's Bank of China) "was willing to let the yuan fall to 6.8 to the dollar by the end of the year to support the economy. That would mark a depreciation of 4.5 percent in 2016, matching last year's record decline. After that report, the PBOC said China had no intention to promote trade competitiveness through depreciation of the yuan, a comment also made repeatedly by Chinese Premier Li Keqiang."
Impact on mutual funds
China-focused funds such as the Clough China Fund – Class A (CHNAX), the Fidelity China Region Fund – Class C (FHKCX), the Matthews China Fund – Investor Class (MCHFX), the iShares MSCI China ETF (MCHI), and the SPDR S&P China ETF (GXC) are not impacted by the rise in foreign reserves.
However, the revenues of multinational companies such as Taiwan Semiconductor Manufacturing Company (TSM), Lenovo Group (LNVGY), Baidu (BIDU), NetEase (NTES), and China Mobile (CHL) may take a hit due to a currency fluctuation. For more mutual fund analysis, please visit MR's Mutual Funds page.