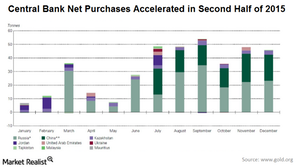 Russia and China Are Leading the Pack in Gold Buying
Global unrest
Global concerns are rising, and most of the world's economies are struggling. Amid the turmoil, many economies have started stacking gold. Gold's haven appeal rises as markets experience turmoil. The 2008 financial crisis caused gold to jump to its all-time high as confidence in other investment avenues crumbled. The credibility of major currencies like the US dollar and the euro also fell, and investors flocked to the safety of gold.
2016 started with more turbulence than expected, and many central banks started stacking gold and are cutting their dependence on currencies like the dollar and the euro. China and Russia are leading the pack when it comes to reducing their dependency on these currencies.
Article continues below advertisement
Russia and China stack gold
As seen in the above chart, Russia and China certainly remain among the top gold buyers and have seen a tremendous increase since the second half of 2015. China expanded its reserves by a whopping 70% in the last year to about 1,800 tons. It now has the world's fifth largest stockpile of gold. Chinese strength in the gold markets is set to rise due to the inclusion of the yuan as a currency reserve for IMF's (International Monetary Fund) Special Drawing Rights.
Russia also built up its reserves by 18% over the last year to about 1,480 tons. The concerns over cheaper crude oil have weighed down the Russian ruble, which has encouraged investment in gold. According to a World Gold Council report, the central banks around the world have increased their gold reserves by 2.7% from a year earlier to about 32,800 tons.
The gold-based funds and mining funds like the Sprott Gold Miners (SGDM), the Global X Silver Miners (SIL), and the PowerShares DB Gold Fund (DGL) have risen 124.7%, 171.9%, and 25.1%, respectively, year-to-date following the precious metal gains.